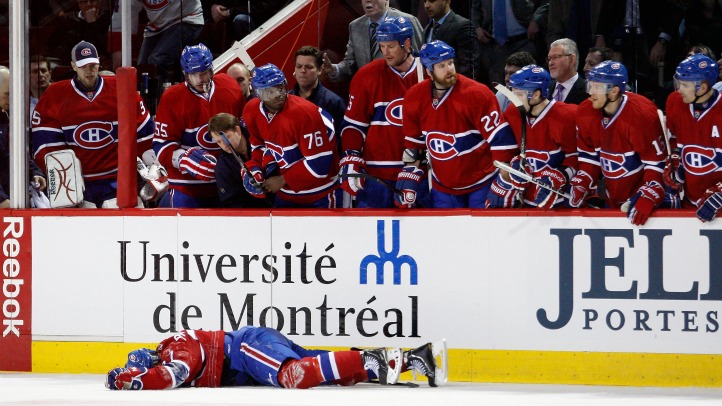 The Hawks have to win in Montreal tonight, and they haven't done that since Steve Sullivan and Tony Amonte did the scoring for them. In other terms, that was 10 years ago. Granted, they've only been there five times since, but you get the idea.
Upping the ante for the now-panting Hawks is the fact that this is the Canadiens' last home game of the year, and they can clinch a playoff spot tonight. So that's fun. Add to that the 23-11-6 record they boast, and this is no small task facing a Hawks team that hasn't lit anyone up recently.
However, neither has Montreal. The team only won two of their last six games as they stumble over the steps into the playoffs. They haven't scored more than three goals in their last six games, and during the two games they did manage three, one of the tallies was into an empty net.

If you need more encouragement, and you'll need to, in the eight-game stretch the wins came over Atlanta and New Jersey. In the three games they played against actual playoff teams, they lost by a combined 11-0. Now we just have to debate whether the Hawks are actually a playoff team or not.

Tonight will go a long way in answering that.
But it's never been Montreal's game to score a lot. There are only three 20-goal scorers here, and only captain Brian Gionta has more than 21. The Habs' game is to throttle you at even-strength, where they're only a +1 as a team, and win the game on their special teams -- both Top 10 in the league. You'll see as much clogged ice tonight as you did with Tampa.

Though the Canadiens don't use the interplanetary system that the Lightning used, get ready for at least four Canadiens behind the red line when the Hawks have the puck. Perhaps for once, the Hawks will just settle for chipping the puck in deep to the Canadiens' zone and doing what they can to retrieve it.
But there's a bigger problem than that.

Say the Hawks do actually stick to a simple game and make it work. They then have to beat one of the better goalies around in Carey Price. Though Price was the bane of most Habs fans' existences with his nasty habit of getting pictured with a minimum three cocktails in hand, being handed the starting job this season has turned it all around. He's solid in every way. However, the workload may be getting to him as he's been yanked in two of his last five starts.
The other kid to watch is defenseman PK Subban. Though he's not winning a lot of friends around the league with his habit of delivering soliloquies and thoughts on ice, he's a talent. He can really skate, he loves to get up and involved in the attack, and he's a big boy.
The Hawks have to be disciplined in every way tonight. They can't get cute with the puck, the Habs won't let them. They can't take silly penalties, because this power play with Subban blasting away from the point can be lethal. They have to get to the net because Price is going to stop everything he sees.
They've left it to the last possible minute. There is simply no more time for goofing around, or claiming to be tired, or thinking you'll get them next time. It has to be now, or there won't be a next time. They have to get it right some time, right?