While perusing and listening to what Cubs fans have to say their team, one tends to put on a lot of Joy Division CDs (not that anyone owns CDs anymore). It's a terribly depressing state, with an upcoming firesale providing the only interest. A lot of Cubs are getting bus-tossed by their fans, some with good reason and some not. One who has been unfairly flambayed, until recently, is 1st baseman Carlos Pena.
Some fans probably haven't gotten past a woeful first month. Pena was pretty bad in April, but the past two months he's been marvelous. He's hit 17 home runs and put together an on-base percentage of .371, a slugging-percentage of .571, and an OPS of .942 since May 1st.
That's good times right there, mister.
What's fascinating about Pena is that he's the three-perfect-outcome hitter that Adam Dunn was supposed to be. He only walks, homers, or strikes out. In June, Pena's BABIP (batting average of balls put in play, which always gets back to around .300 usually) is a terrible .212. In 103 plate-appearances this month, Pena has 10 homers and 13 walks, which wouldn't count in BABIP, and neither would his 27 K's. That leaves 53 PA's to deal with, which he's only had 4 doubles and seven singles. He's been unlucky while extremely dangerous at the same time. It's quite the trick.
This puts the Cubs in a bind. Clearly, Pena's trade value is rising. But it won't get that high as he's only on a one-year deal and teams won't give up too much for a player they can have for free in the winter -- unless the Cubs can engineer a bidding war. No one on the Cubs other than Starlin Castro should be considered untouchable, this much is a given. If they can acquire a young piece for Pena, and a genuine one who's ready to be in the majors in 2012, then they should do that.
At the same time, everything the Cubs should do should be viewed with the team's rebuilding. You only move a player out if you have an idea of who's going to replace him from the system or is returning in that trade. Moving Marlon Byrd makes sense, Brett Jackson is coming. Same with Aramis Ramirez, as Ryan Flaherty is crushing skulls in Double-A. Geovany Soto has Wellington Castillo behind him.
But the Cubs don't have a replacement for Pena. It's not their Triple A 1st baseman, Bryan Lahair, who will be 29 come next season and is not a prospect. They have to think longer term than that. Is it Tyler Colvin? A trade of Pena midseason could allow the Cubs to find out, but the chances aren't very good. Colvin will never get on base enough and we don't know that he won't get himself killed at 1st.
Pena is only signed for this year. He may want a multi-year deal after a productive season (which this one isn't fully yet). The Cubs probably won't want to commit that. But in a world where they can't afford Pujols or Fielder -- and they can't, people -- if Pena can be kept around for a season or two until someone is developed to be the long term solution, it might be worth doing.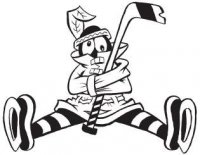 Sam Fels is the proprietor of The Committed Indian, an unofficial program for the Blackhawks. You may have seen him hocking the magazine outside the United Center at Gate 3. The program is also available for purchase online. Fels is a lifelong 'Hawks fan and he also writes for Second City Hockey .
Published at 5:59 PM CDT on Jun 29, 2011