This is probably the last somewhat interesting week for Cubs and Sox fans, until September call-ups for the Cubs and the oncoming Circle of Death Match between Kenny Williams and Ozzie Guillen, which should come after the season.
This is the last week before Sunday's trade deadline. You can still make trades after July 31st, but that gets to a whole complication thing with waivers and claiming and pulling back and whatever else. So for all intents and purposes, this is the prime shopping time.
For the Northsiders, we'll see just how much onions Jim Hendry has. This team clearly needs to be blown up. But Hendry is in an odd position. He's pretty much guaranteed to get canned after the season. So is he going to start a rebuilding project that he's not going to be around to finish, or even the middle part? Out of loyalty to the organization, you'd like to think so. But is he the man to do it? Probably not. Hendry's record on trading pieces for prospects isn't exactly stellar. But the Cubs aren't going to fire him today and have someone fill in for this deadline.
What are the options? Carlos Pena has some value and is cheap, and his contract expires after this year. He's going for sure. Aramis Ramirez can help a lot of teams right now either at 3rd base (though hopefully other teams haven't seen that he can't really play it any more) or at DH. However, he's being kind of a pain and exercising his right to block any trade. What that actually means is that he just wants his option for next year guaranteed. But seeing as how that checks in a $16 million, you'd have to have marbles actively dropping out of your ear to make that guarantee. Marlon Byrd could help a team and he's cheap as well. Kosuke Fukudome can show up somewhere, walk and not get hits, as is his second half wont.
The Cubs should also see what they can get for Ryan Dempster, because no one is going near straight-jacket candidate Carlos Zambrano, his bag of money and ever decreasing MPH on his fastball. Sadly, Demp has the same relationship with the plate as most of us do Waldo, and he's got his own bag of money. To boot, the Cubs probably view him as a leader and character, and don't want to give up on that.
Meanwhile, south of Roosevelt Rd., the Sox will probably be trying to add a piece to a club that keeps dry heaving it's way to being entrenched in third place. They just can't seem to make anything come out. Colby Rasmus is a name you keep hearing, and with six genuine starters the Sox have pieces to move. Rasmus would seemingly be there to replace the corpse of Alex Rios, who's laughing all the way to the bank. If they wanted to replace Juan Pierre, they have Dayan Viciedo waiting in Triple-A. They could look at 3rd base too, as Brent Morel is a good glove guy but hasn't hit all that wel. Gordon Beckham has been swinging a flaccid noodle for most of the year, but they'll never take at-bats away from him. They're set in the rotation and bullpen, so that's what they're in the market for.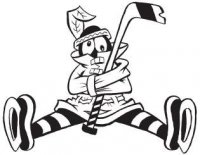 Sam Fels is the proprietor of The Committed Indian, an unofficial program for the Blackhawks. You may have seen him hocking the magazine outside the United Center at Gate 3. The program is also available for purchase online. Fels is a lifelong 'Hawks fan and he also writes for Second City Hockey .
Published at 4:40 PM CDT on Jul 25, 2011