There have been hopeless seasons for Cubs fans before. And they weren't all that long ago.
The 2002 season was a funny bad year that cost Don Baylor his job. But Kerry Wood and Mark Prior were still on that team, and the hopes for more weren't that hard to find, especially as the rumors grew and grew that Dusty Baker was coming to town (we didn't know he was an utter pillock at that point).
The 2006 season was another awful year that saw Baker's time come to an end. But on the last day of that season, the team went up for sale, John McDonough took over and there was at least a hope of significant change.
There is none of that glow now.
The trade deadline passed Sunday. And while contenders were beefing up for the stretch drive of the season and the teams of the damned were stripping their clubs for parts to reload for future charges, the Cubs sat and just watched the wheel in the sky keep on turning. Why they did this is anyone's guess, but they must think that a team that's 21 games under .500 can't afford to lose any pieces.
The shortsightedness and stubborness of Sunday's non-action should see a fair share of torches and pitchforks headed to Wrigley and Tom Ricketts' and Jim Hendry's offices this week.
Let's be clear, the Cubs are years away from being contenders. Their pitching staff, other than Matt Garza, is either old or useless, and certainly overpaid. They have no top-end pitching prospects on the way either. They only have a couple position players in the minors who look like they could be something.
Aramis Ramirez shouldn't be on this team next year. Carlos Pena won't be when he gets a multi-year offer from anyone else. Marlon Byrd is a stop-gap. Sean Marshall is one of the best set-up men in the game, but you don't need set-up men when your team hardly wins anyway (the Padres figured this out right quick). Reed Johnson will not be on this team next year. Why are they here now?
The Cubs will tell you they'll gain their flexibility when these contracts are up next year. But if they're going away, why not ditch them now, bring in a number of prospects in those deals and hope just one comes up trumps? If the Cubs were alarmed that they'd have to cover salary, has anyone told them the concept of "sunk cost"? You're paying that money either way, so why not try and get something that will help you down the road when you might be a contender again?
The Pirates kicked the tires on Carlos Pena and Reed Johnson. The Angels have long coveted Aramis Ramirez, who certainly would have waived his no-trade with the right enticements. Everybody wants bullpen help.
And what's worse is that the Cubs didn't even listen. It would be one thing if Jim Hendry could honestly tell us he tried, but there wasn't anything out there. But he and the organization acted insulted whenever the idea was brought up. They actively told teams they won't move Carlos Pena, even though they won't re-sign him most likely. They acted hurt when the idea of moving Marshall came up, as if that was akin to feeding Alka-Seltzer to a pigeon. They never took calls on Ramirez.
So now Cubs fans are left with a farm system that is still bereft of hope, a joke of a major league team that's old, overpaid and generally uncaring, and an organization that doesn't see why either of those should change.
Dark days, indeed.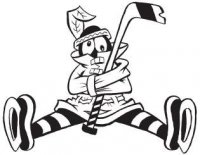 Sam Fels is the proprietor of The Committed Indian, an unofficial program for the Blackhawks. You may have seen him hocking the magazine outside the United Center at Gate 3. The program is also available for purchase online. Fels is a lifelong 'Hawks fan and he also writes for Second City Hockey .
Published at 1:55 PM CDT on Aug 1, 2011 | Updated at 1:56 PM CDT on Aug 1, 2011