The man accused of beating, stabbing and sexually assaulting a 26-year-old woman inside her parents' suburban home over the weekend has been identified and charged, police said Wednesday.
Londale Madison, 31, was charged with one count of attempted first degree murder, one count of aggravated criminal sexual assault, one count of home invasion and one count of armed robbery, according to the DuPage County state's attorney's office. All charges are felonies.
Madison, of the 1000 block of Calvert Street in South Bend, Indiana, was ordered held on $5 million bond Wednesday.
Just two weeks ago, Madison was cited in Indiana for violating probation, which he was granted after getting an early release from prison late last year. He received a six-year sentence in 2012 for a felony burglary conviction in St. Joseph County.
If Madison is convicted on all charges, he faces a maximum sentence of up to 120 years in prison, according to the state's attorney's office.
The victim told Willowbrook police she was pulling her car into the driveway of her parents' home in the 700 block of 73rd Court at about 1 p.m. Saturday when a dark blue older model Nissan Altima followed her into the driveway.
A man then got out of the car and asked the woman for money. She refused and went inside the house. The man then began knocking on the side door of the home and asking to make a phone call. When she refused again, he forced his way inside the house, police said.
Indiana Man Charged in Brutal Willowbrook Attack Was on Probation
Nobody else was home at the time of the incident.
Inside the home, the man stabbed the woman multiple times with an unknown sharp object, according to police. The victim's family told NBC Chicago she was beaten "like an animal," stabbed 16 to 18 times and sexually assaulted.
The woman managed to run to a neighbor's home and call police after the attack.
"She got out of the pool of blood that she was laying in and got out of the house and ran across the street," the victim's father said. "She just decided 'I'm not going to die today.'"
Authorities determined that Madison returned to Indiana after the attack.
The woman was hospitalized with broken bones in her face and multiple stab wounds in her throat, face, torso, abdomen and back, her father said. She remained hospitalized on Wednesday with serious but not life-threatening injuries.
"I stepped in the [hospital] room and leaned over her bed and whipsered in her ear, 'Honey, they got him,'" her father said. "She said 'Daddy, really?' and I said 'Yeah honey, they got him. He'll never hurt you again.'"
Willowbrook police called the incident "highly unusual," saying the suburb is a "very safe town."
Woman, 26, Beaten, Stabbed, Sexually Assaulted in Willowbrook Home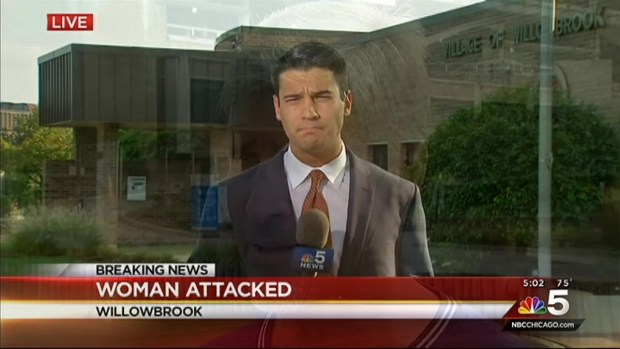 "Her spirit saved her life," the victim's mother said. "There is no way, she is a fighter. She used whatever she could and she didn't give up."
The woman described the man to police, but she told them she did not know him.
Family members said the victim recently had surgery to repair her wounds.
"She's more beautiful than I've ever seen her," her father said.