The two men accused in a violent robbery and hostage situation that lasted nearly 20 hours this week in suburban Harvey were charged on multiple counts, including attempted murder against a police officer.
David Jordan, 40, of Dixmoor and Peter Williams, 41, of Chicago were both charged with two counts of attempted murder against a police officer, one count of aggravated criminal sexual assault while armed with a firearm, eight counts of home invasion and eight counts of aggravated kidnapping.
The suspects are both parolees with criminal records involving violence and gun violations.
One of the men was released on parole last year from the Illinois Department of Corrections and was on electronic monitoring at the time they allegedly took eight people hostage situation started.
Authorities knew the suspect -- who had previously been convicted of murder and armed robbery charges -- was not where he was supposed to be, and were actively searching for him while the hostage situation was under way, NBC 5 has learned.
A spokesman for the IDOC confirmed that on the day of the hostage taking, the parolee had left his home at 6:47 a.m., returned at 11:12 a.m., and then left one more time at 11:51 a.m.
The attempted robbery and hostage situation began just a few minutes later.
IDOC officials said the suspect had numerous violations of his electronic monitor, but said he was generally compliant with his parole and there were no red flags that showed he would return to a life of crime.
"Every time we looked for the guy we found him promptly," IDOC spokesman Tom Shaer said.
Shaer said during the hostage situation, there were five unsuccessful attempts to locate the suspect and a warrant was issued for his arrest at 10:22 p.m. -- while he was allegedly holed up in the house with his hostages.
Parole officers are supposed to check on parolees every 30 days, but the last check on the 41-year-old suspect was June 4th -- 77 days before he and his accomplice allegedly targeted the Harvey home for the robbery.
Cell Phone Video Captures Harvey Hostage Arrests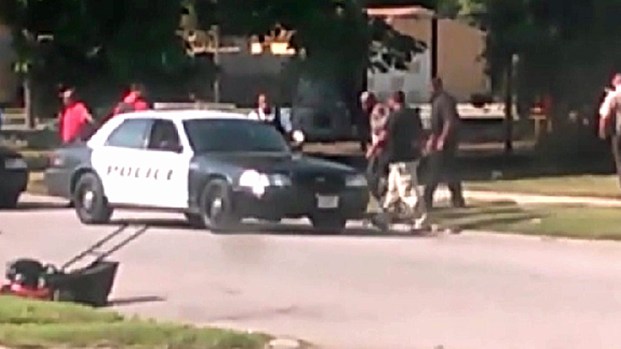 Editor's Note: This article was originally published on Aug. 21, 2014.
Published at 8:43 PM CDT on Aug 21, 2014 | Updated at 11:54 AM CDT on Aug 26, 2014