Park Forest Police Department issued a "Code Red Community Alert" Thursday after two teen girls and a woman were attacked this week.
Police say the first incident occurred Tuesday at 5:45 p.m. when a teen walking through Winnebago Park was robbed at knife point. After the robber began to fondle the victim's breasts through her shirt, she was able to pull away and escape.
Investigators released a sketch of the offender, who's described as a dark-skinned black male with a beard, misaligned/yellowed teeth, 28-35 years old, anywhere from 5-foot-8 to 5-foot-10 inches tall and around 135 lbs. He was wearing grey sweat pants, a black hooded sweatshirt with the hood pulled up, and dark sunglasses.
The second incident happened Thursday at 8:20 a.m. when another teen girl was confronted by a man at Westgate Street and Westwood Drive and began fondling her body over her clothing. Police say no weapon was involved in that incident.
About 40 minutes later, a 39-year-old woman walking near Shabbona Park was approached by a naked man wearing a skull cap who grabbed her waist from behind and thrust his pelvic area toward her.
Police aren't sure if the crimes were committed by the same person, but the descriptions given by the victims don't completely match.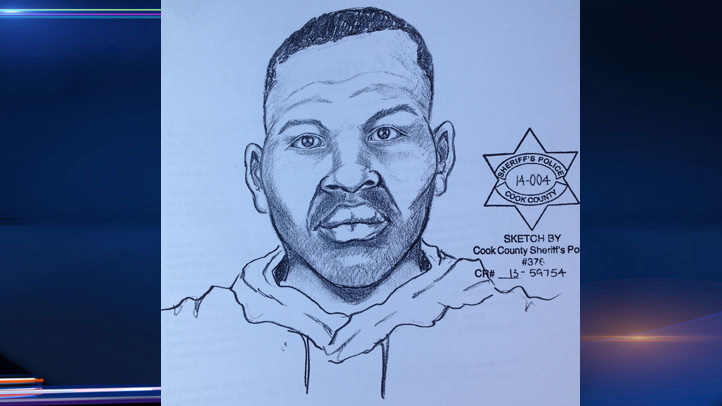 Tiana Lawson says one of her classmates was one of the victims, and now she's not going anywhere without her dog or another person.
"I was like dang, because it was so close ... right there. It could have been me," Lawson said. "It's just essential that parents know where their kids are and how they're getting home ... Nobody thinks it will happen to them."
Anyone who may have witnessed any of the incidents or has information is asked to call the Park Forest Police Investigations Division at 708-748-1309.
Published at 8:29 PM CDT on Mar 20, 2014 | Updated at 10:29 PM CDT on Mar 20, 2014