Lake Michigan isn't exactly known for its surfing, but aficionados may soon have another way to catch a big wave in Chicago.
K.C. Hoos of Chicago Surf is attempting to build a SurfStream machine at Montrose Beach, which provides a simulated surfing experience. But the contraption wouldn't be actually located in the water, it would be located on dry land in a planned surf park with a beachside cafe and a 7,500 square foot patio (pictured, right).
"A lot of people come here already. It's a huge park, huge beach with volleyball, kayaking, jet skis and now we are adding a surf park," Hoos said.
Crews were drilling on Thursday to test the soil, and if the city signs off on the project, construction will begin in autumn.
"It's a stationary spray pool that you can surf on top of it. It's on a real surf board, and you can adjust the speed, so it simulates actual surfing," Hoos said.
Chicago Surf from Chicago Surf on Vimeo.
Hoos says the best thing about the SurfStream, made by American Wave Machines, is that you don't have to know how to surf to use it. It can create up to 6-foot multiple wave patterns.
"It's safe enough for young kids to professionals," Hoos said. "You can stay laying down like a boogie board, then you work your way up to kneeling, and then you eventually stand up."
The Chicago Park District allows year-round surfing at Montrose and 57th Street beaches. You can also surf at Osterman and Rainblow beaches between Labor Day and Memorial Day, however because of the challenging waves, surfers are responsible for their own safety.
Surfers, Kiteboarders Take to Big Waves on Lake Michigan
Hoos, who used to live in South California, says by the time the waves get big enough to surf in Chicago, the water temperature is too cold. Plus, he says safety isn't an issue with the surfing machine.
"It's in a controlled environment. You don't have sharks, you don't have to swim out past the waves, it's not cold water. It's a win-win," Hoos said.
Chicago Park District officials say they're close to an agreement, and if all goes according to plan, the simulated surfing machine could be up and running by next summer.
Surfers Brave Winter Waves on Lake Michigan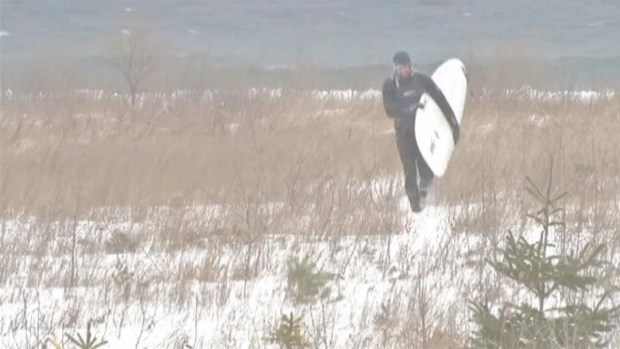 Published at 5:26 PM CDT on Aug 28, 2014 | Updated at 5:43 PM CDT on Aug 28, 2014