Eight adults and 21 students were hospitalized after a bus bringing members of a high school basketball team to a state championship tournament rolled over the highway Saturday afternoon, according to Indiana State Police.
The bus carrying Griffith High School's boys basketball team overturned on I-65 near DeMotte, at the 230.5 mile marker, after it was sideswiped by a driver who had spilled her drink, authorities said.
@JP8185pic.twitter.com/qAe5hsZIc7

— Brandon Grubl (@b_grubl) March 19, 2016
The team was headed to Lafayette to compete in the Class 3A semistate game against Marion High School. The game was postponed until Wednesday, according to the Indiana High School Athletic Association.
This afternoon's Griffith-Marion boys basketball semi-state game at Lafayette Jeff scheduled for 4 pm ET/ 3 CT has been postponed.

— IHSAA (@IHSAA1) March 19, 2016
According to Indiana State Police, the bus rolled over after another driver, identified as a 23-year-old woman, "spilled a drink on herself causing her to sideswipe a Griffith School Corporation bus."
The woman was driving southbound in the left lane "when the lid of her drink came off, spilling the contents on her," police said, adding that she tried to grab the cup and lost control of her car.
The bus was carrying six adults and 21 students, including the driver. All suffered non-life threatening injuries. Officials said most were taken to area hospitals by ambulance or on a Kankakee Valley School Corporation bus, but one of the coaches was transferred by helicopter to the University of Chicago in Illinois.
All but one person on the bus — a freshman basketball coach — had been released from the hospital by 9 p.m. Saturday, according to a press release from the school.
High School Basketball Players Injured in Bus Crash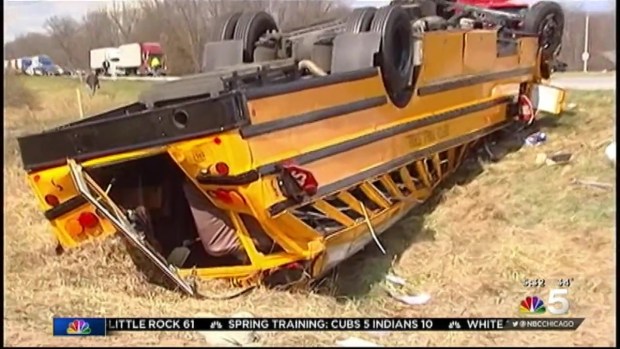 "When I saw pictures of the bus, my heart sank," Superintendent Peter Morikis said in a statement Sunday. "We are grateful tonight that, despite a multitude of bumps, bruises, gashes and scrapes, every person in the crash has survived."
The other driver and her passenger were taken to Franciscan Jasper County Hospital, also with non-life threatening injuries, authorities said.
Thankful for rapid response of state, local law enforcement to the @GriffithHigh bus crash. Sending prayers to the team, parents & community

— Governor Mike Pence (@GovPenceIN) March 19, 2016
All lanes were reopened at 4 p.m. Sunday and the investigation is ongoing.
Published at 2:03 PM CDT on Mar 19, 2016 | Updated at 12:05 PM CDT on Mar 21, 2016