The Jackie Robinson West Little League team returned home to Chicago Monday as victors.
The team's plane was showered with water from the Chicago Fire Department after it landed at Midway International Airport, and the team was showered with cheers at the gate by dozens of family, friends and fans.
The celebration continued at the airport's baggage claim, where the coaches and players were greeted by a live band.
JRW Head Home After Historic Tournament
Though they lost 8-4 Sunday to South Korea in the World Series game, they remain U.S. champions after powering past Las Vegas in Saturday's big win, and the city can't wait to celebrate.
"The coaches and myself put a lot of work into these guys, and we wanted this experience to be something they enjoyed, so we wanted to make sure they had fun doing it," pitching coach Jerry Houston said.
The team boarded a bus at the airport and received a police escort to Jackie Robinson Park in the city's Washington Heights neighborhood where they were met by Mayor Rahm Emanuel. A reception was held at the park with more congratulations from family and friends.
"They showed a maturity, character, discipline beyond their age," Emanuel said.
The players, who haven't been home since July 31, are obviously tired and looking forward to sleeping in their own beds and some home cooking.
Fans Greet Team at Jackie Robinson Park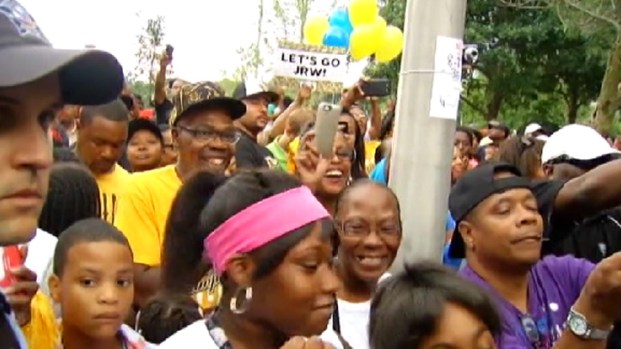 "Probably some macaroni, some chicken, some greens ... I'm hungry," reliever Ed Howard said.
Former Jackie Robinson West coach Michael Haywood was among those who came out to greet the team.
"This is special. My heart is trying to get out of my chest right now, that's how special it is," Haywood said.
Buried in all the acclaim is the fact that most of these boys are only around 12 years old.
"I couldn't ask for anything more," JRW Coach Darold Butler said. "I hung out with the best coaches, the best kids you could be around. They made it enjoyable. The parents, volunteers, everybody, it was great."
JRW Arrives at Midway to Heroes' Welcome
The biggest celebration, though, is yet to come. Emanuel announced Chicago will honor the team with a parade that begins on the South Side and ends at Millennium Park. Wednesday night's Navy Pier fireworks will also be dedicated to them.
"I heard a lot of people were excited because we were the first all-black team in, like, 31 years," JRW player Trey Hondras said. "To accomplish something big like this in Chicago, especially since it's kind of negative there, it was very positive to come here."
It certainly was a weekend to remember for the team. On Saturday, they beat Las Vegas to clinch the U.S. Little League Championship. Despite a last minute rally on Sunday, the South Siders couldn't match a powerful South Korean team.
Even in defeat, though, the team maintained its grace, dignity and sense of humor. They said they are excited to be champs and look forward to returning home.
"I want to say thank you for all the support that they gave us," JRW player DJ Butler said.
Fans Salute JRW in Williamsport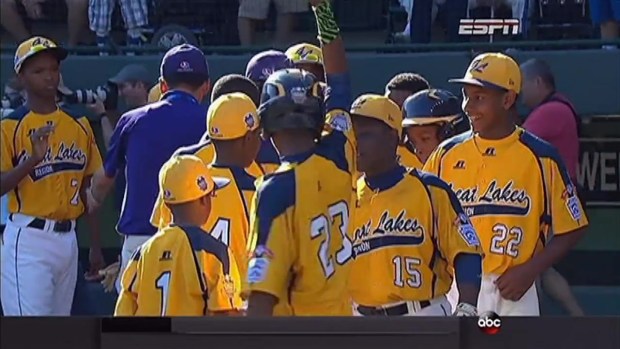 Published at 1:27 PM CDT on Aug 25, 2014 | Updated at 10:34 PM CDT on Aug 25, 2014