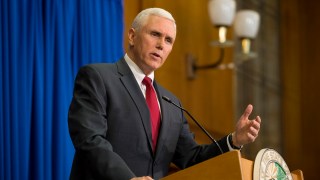 Indiana Gov. Mike Pence is "in play" as a possible contender to be named Donald Trump's running mate at next month's GOP convention, sources familiar with the vice presidential search tell NBC News.
An individual knowledgeable of conversations about the decision tells NBC News that Pence was made aware several weeks ago through an intermediary that he was being considered for the VP slot.
Officials close to the governor stress that Pence has had absolutely no direct contact with the Trump campaign since before Indiana's primary in April. Pence, who is running for his own re-election this November, endorsed Ted Cruz over Trump in the primary contest but noted at the time that the real estate mogul has "given voice to the frustration of millions of working Americans with the lack of progress in Washington, D.C."
In a news conference on Thursday, Pence declined to say whether or not he is being vetted, and there are other possible picks for the job, including New Jersey Gov. Chris Christie and former House Speaker Newt Gingrich.
Get More at NBC News