More than 200 activists marched from the Chicago Police Department's headquarters, winding through city streets and closing parts of Lake Shore Drive Monday night following a grand jury's decision to decline to indict police officer Darren Wilson in the shooting death of unarmed black teen Michael Brown in Ferguson, Missouri.
Aerial Footage of Ferguson Protest on Lake Shore Drive
The protesters appeared to be marching north on southbound Lake Shore Drive near 31st Street around 9 p.m. Shortly after 9:30 p.m., the demonstrators moved onto Columbus Drive and also briefly stopped outside the Thompson Center. It was not immediately clear where they were going.
Chicago Police News Affairs said police were "responding to a disturbance in the area." There was reported to be traffic disruption.
Police on bicycles, horseback and in squad cars followed along with the protesters as they headed to the business district, closing roads as they went. A Chicago Police Department spokesman said there had been no reports of vandalism or arrests as of about 10:30 p.m.
Rev. Jesse Jackson urged calm following the decision.
"I urge people to be disciplined in their non-violence because violence will not solve the problem, it will be a distraction from the problem, which is needed for an urban policy," Jackson said. "We've urged the White House and the President to consider convening a White House conference on civil rights."
The protest was one of several around the country.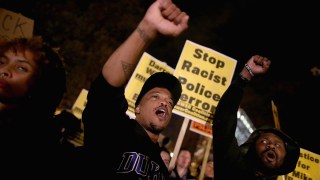 Protests Erupt After Ferguson Decision
Many gathered Monday night chanting slogans such as, "This is what Democracy looks like." Some were carrying signs and banners — one of which is a black sheet with photographs of people the protesters say were shot and killed by Chicago police.
The protest started peacefully about an hour before the announcement was made. About 20 police officers were stationed in front of the headquarters, located at 3510 S. Michigan Ave. on the city's South Side.
Ferguson Reacts to Grand Jury Decision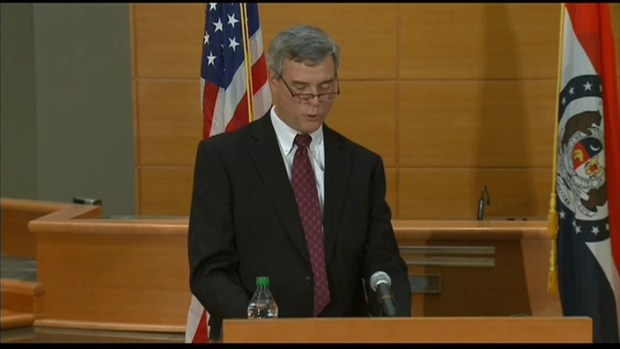 Mayor Rahm Emanuel said earlier that the city's response would not be like ones seen in Ferguson.
"You want an ongoing dialogue, ongoing conversation that builds trust between community and public safety leaders," Emanuel said.
Police Supt. Garry McCarthy ensured that a military-like presence would likely not bee seen in Chicago.
"At all costs we will prevent that from happening," he said.