All of us in Chicago are probably grateful for the three-day break we get from having to watch either the Sox or Cubs these days.
The Sox have become a kind of baseball torture, with games ranging from innocuous to maddening to over-the-edge, frothing with insanity. The Cubs are just Kabuki theater right now, with none of the face paint but all the odd movements and noise.
But sadly, the All-Star game is hardly the oasis it used to be.
Every baseball fan used to love it, as it's the only All-Star game that actually resembles the sport. The basketball version has become a dunk and alley-oop contest where you can pretty much tell everyone is either recovering from the party last night or looking forward to the one that night or both.
The hockey All-Star game is an unwatchable game of pond hockey that looks like it's being played on a Xbox 360 by stroke victims. I only have heard of scant evidence that the Pro Bowl actually takes place, and certainly no one's ever seen it.
But the baseball showcase was different. Because players were trying on both sides.
Pitchers, fielders and hitters wanted to play well. Derek Jeter never let a Barry Bonds grounder go through because he didn't want to play defense. Greg Maddux never grooved a fastball to let Frank Thomas show how far he could hit the ball. Everyone wanted to prove why they got there, and it actually resembled baseball.
And the game tonight still will. It just won't be the actual All-Stars, for a large part, competing against each other.
Interleague play didn't help. The only time we used to be able to see something like Tim Lincecum face Mark Texeira in an at-bat was either the All-Star game or the World Series. Now we get stuff like this every year. It's no longer unique.
The rule that every team has to be represented also didn't help. Before rosters were expanded (more on that in a bit), it led to a lot of snubs so we could force some Royal or Pirate into the night, turning off some fans. We don't do Socialism well in any aspect.
But it all came crashing down in 2002, and the reasons that happened are why we have this mess now. You remember, managers Bob Brenly and Joe Torre burned through all their pitchers and thus the game ended in a tie.
The response to this was to make the game "matter," and thus, home-field advantage for the World Series would be decided by the outcome. This was a classic, moronic solving of a problem that didn't exist. The issue wasn't that the players didn't care. They most certainly did. The problem was the managers decided it was the last game of a little league season and everyone had to play. They don't. With it becoming more and more an exhibition, the more passion went out of it.
So to avoid the problem of burning through players, instead of the managers trying to make it more like a real game, they expanded the rosters. This helped somewhat with the snub problem (though when fans vote there are always going to be problems), which led to a far more diluted roster, which meant fewer people cared. Combine these, and the players care less, don't show up, meaning more non-deserving players participate.
Luckily for baseball, I'm one of those people who have nothing else to do tonight and it's the only thing on.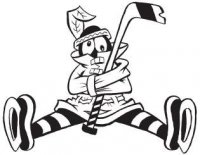 Sam Fels is the proprietor of The Committed Indian, an unofficial program for the Blackhawks. You may have seen him hocking the magazine outside the United Center at Gate 3. The program is also available for purchase online. Fels is a lifelong 'Hawks fan and he also writes for Second City Hockey .
Published at 2:16 PM CDT on Jul 12, 2011