The waistcoat, bowler hat, leather boots, even the remains of a mustache – all believed to belong to America's first serial killer – laid well-preserved, ready to be unearthed by archaeologists.
"I actually picked the skull up in my hand. I looked into sockets, which was a spooky moment," said Jeff Mudgett, the great-great-grandson of H.H. Holmes.
In the spring, scientists at the University of Pennsylvania, with the backing of the Mudgett family and the History Channel, dug up the grave of H.H. Holmes. His final resting place is at Holy Cross Cemetery, just outside Philadelphia.
Photos From the Grave of 'America's First Serial Killer'
Holmes was a notorious swindler who is believed to have murdered scores of people during Chicago's 1893 World's Fair. He once managed a hotel at 63rd and Wallace in the Englewood neighborhood. His so-called "murder castle" was complete with trap doors, secret stairways, even a crematory.
When Holmes was finally arrested in Philadelphia, newspaper accounts at the time detailed he may have pulled off his greatest heist yet – by having someone else hanged and buried in his place.
That's what brought UPenn's Dr. Samantha Cox and her team to Holmes' grave to answer once and for all: who is buried in the grave of Chicago's 'Devil'?
Descendant of H.H. Holmes Reveals What He Found at Serial Killer's Gravesite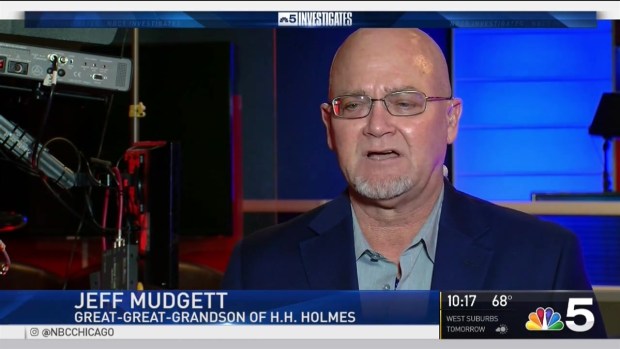 "You couldn't make it up, even if you wanted to," said Cox.
Holmes reportedly had specific burial instructions: to be laid in a pine box filled with concrete; buried 10 feet in the ground; the coffin covered again in cement.
Archaeologists found just that – but with one problem.
"We're in Holmes' grave. It's full of concrete, so we couldn't really be in the wrong spot, and there's no body!" said Cox.
Turns out, scientists first found an empty decoy box. They had to dig even farther to recover the sarcophagus.
Once cracked open, archaeologists found a skeleton and clothes.
"It was a little bit gooey and sticky. It was stuck inside that concrete," Cox said.
Archaeologists extracted a DNA sample from the inner ear of the skull to have it tested against Mudgett's at King's College in London.
"Basically the best result that they could give us is that the skeleton is a relation of the Mudgett family," Cox said.
It wasn't a clear-cut conclusion, so scientists compared Holmes' dental records, which were published in a journal at the American Medical Association, to that of the skeleton.
"From a scientific standpoint to us, there's no doubt (this is H.H. Holmes)," said Cox.
But Mudgett has his doubts.
For one, Mudgett said the physician who conducted the exam for the medical journal said the man he was inspecting was not Holmes. He also raised concerns about the lab that handled the DNA sample.
Mudgett wants a second lab to reexamine the evidence.
"My journey has to do with helping to identify the victims of my ancestor," said Mudgett.
For Mudgett, part of that journey includes digging up the site of Holmes' "Murder Castle" in Englewood. Today, the spot is adjacent to the post office. Mudgett plans to petition the government to do a similar exhumation in Chicago.
The excavation of Holmes' grave was chronicled by The History Channel's "American Ripper" series, which tested Mudgett's theory that Holmes was also the notorious murderer Jack the Ripper.