State health officials confirmed Wednesday that nine people have probable cases of swine flu in Illinois -- and two schools have closed as a result.
The ages of those infected range from 6 to 36 years old. A 12-year-old Chicago girl whose case prompted the closure of Kilmer Elementary School earlier Wednesday is hospitalized but appears to be improving, said Illinois Department of Public Health Director Dr. Damon T. Arnold. Late Wednesday, Rotolo Middle School in Batavia and Marmion Academy in Aurora in Kane County announced they would close temporarily after a student also came down with a probable case of swine flu.
Here's how the other Chicago cases break down, according to the Trib: a 25-year-old Lake View man, a 36-year-old Woodlawn woman; a 20-year-old of undisclosed gender from Roger's Park; and a 35-year-old Hegewisch woman. The suburban cases are a 27-year-old Elmhurst man, a 12-year-old Kane County girl, an 18-year-old Geneva man, and a 6-year-old Lake County girl.
A 20-year-old male Loyola University student has been at home for several days but lived in Fairfield Hall, a 200-student dorm located at 6431 N. Sheridan Road in Rogers Park, according to a statement from the university. He has an unconfirmed, but probable, case of swine flu.
By "probable," Arnold said the state means the person exhibits the symptoms of the flu, and preliminary testing has ruled out other known flu viruses -- but the actual swine flu virus has not yet been confirmed. However, Arnold said these cases are 99 percent likely to be actual swine flu.
Arnold said Illinois is ready for this new strain of flu, and people should take calm, ordered actions to prevent getting sick or spreading the illness.
"We've been working on the pandemic flu issue for multiple years ... we have been sure that people are being trained," he said.
Swine Flu Chicago Update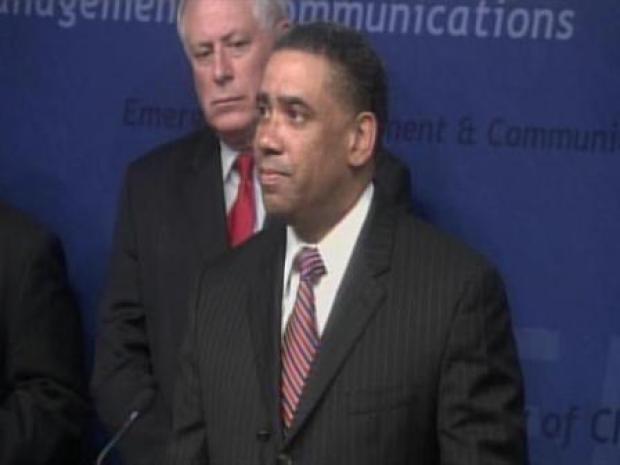 Confirmatory tests on the Kilmer student will be sent to CDC Wednesday. Officials expect to have results back in 24 to 36 hours. Officials are also investigating whether the student recently traveled to Mexico.
The school is located at 6700 N. Greenview Ave. and has 875 students.
At a 7 a.m. news conference, Chicago Dept. of Health Commissioner Dr. Terry Mason said they're closing Kilmer Elementary to try to break the cycle of transmission.
Chicago Officials Discuss Probable Swine Flu Case at Kilmer Elementary
"I want to emphasize that the building is not a problem. The reason we've asked students to stay home is that transmission of the flu happens student-to-student, not doorknob-to-student," Mason said.
Mason said he believes the student has recovered at home and is doing OK.
An attendance drop at the school initially tipped off officials to investigate, Chicago Public Schools CEO Ron Huberman said.
"In general this school has high attendance, 94 percent," Huberman said. "In the past week, we've had 87 percent."
The school building at Kilmer is open Wednesday for the few dozen students who didn't get the message and showed up for school. Teachers were available to watch over the students until their families can pick them up.
Huberman said the school would be closed for at least 48 hours.
CPS is reviewing attendance records at all CPS schools to see if there are any abnormalities at other CPS schools. If there are, officials will follow-up to see if swine flu is there, Huberman said.
Chicago officials stressed that there is no confirmed case of swine flu, and that this is a precautionary measure.
Mason advised everyone to take care of themselves as swine flu approaches the city.
Huberman: Kilmer Closed Until Further Notice
"The best, the first defense against this flu is a healthy immune system. That means you need to eat fruits and vegetables because that contains good nutrients to keep us from being sick, and get enough sleep," he said.
Map of Swine Flu Cases Worldwide
View
H1N1 Swine Flu
in a larger map
Purple marker is confirmed or probable case
Pink marker is suspect
Yellow marker is negative
Fatal cases have no dot