An Elgin Mental Health Center prisoner who escaped from a corrections vehicle Wednesday morning en route to a court hearing has been arrested.
Jesse Vega, 33, of Chicago got away from the facility's custody around 8 a.m. in the area of Seneca Street and Dundee Avenue in Elgin, police said. Vega was at the facility because he was deemed unfit to stand trial for allegedly assaulting his girlfriend last year.
Vega got into a cab and asked to go to the airport Wednesday afternoon, but the driver, Ken Dunbar, recognized him from police alerts. Dunbar drove around the block a couple times hoping police would be in the area and eventually turned the suspect over.
"I just knew that he wasn't going to go to the airport, and I knew that sooner or later the cops were around here, so I knew sooner or later they were just going to catch up with him," Dunbar said.
Eyewitness Ryan Jenkins captured the arrest on his iPhone.
"All of a sudden some squad cars just flew past us and I saw officers then take the suspect out of the cab and take him to the ground, put some handcuffs on him," Jenkins said.
Cmdr. Ana Lalley said Vega, who also uses the name Jesse Ortiz, escaped from custody while en route to the Lake County Courthouse to receive a court date for a felony case.
Vega is accused of attacking his girlfriend at Six Flags Great America on Sept. 29, 2013. According to documents, the woman was transported to Advocate Condell Medical Center's intensive care unit where she was put into a medically induced coma for a fractured skull with bleeding on the brain.
The woman survived. Vega was charged with eight felony counts, including aggravated domestic battery, aggravated battery causing great bodily harm, aggravated battery in a public place, obstruction of justice and aggravated DUI.

Lalley said Vega was handcuffed in the front when he escaped. The vehicle was stopped when Vega fled.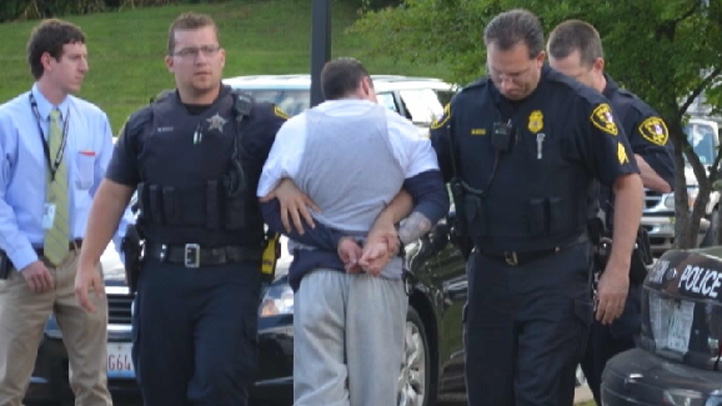 As the manhunt continued Wednesday afternoon, School District U-46 delayed its summer school dismissal and activated its secure building procedures.
A tactical response team was deployed, along with a K-9 unit and police helicopters, in the area of a nearby VA Clinic on Seneca Street.
"We don't know why he escaped, we don't know what his intent is, so just use caution and call 911," Lalley said.
Published at 9:54 AM CDT on Jul 16, 2014 | Updated at 11:39 PM CDT on Jul 16, 2014