If any of you read my hockey stuff, you know I'm a total stats dork. And though I've applied it to hockey, I got it from watching baseball. I rant and rave when a broadcaster or announcer expounds on a given player's wins, or batting average, or saves, or RBI. To me, those mean next to nothing. They either are too dependent on one's teammates, or fail horribly at telling the whole story. I live for the day when we all pretty much ignore these stats. But it will probably involve a lot of cigar-chompers with hair on their knuckles to move on to the next realm without having passed on their limited viewpoints to their progeny. Unlikely at best.
I thought it would be an interesting case to look at those who are closing games for the White Sox at the moment, and in particular Sergio Santos. Santos got the job via the two most wonderful words in the dictionary, "de" and "fault". This is after both Matt Thornton and Chris Sale flamed out in the job. There's just something weird about being a closer in baseball. Thornton and Sale knifed through the middle of other teams' order last year like a teen slasher film. But when that task comes in the 9th instead of the 8th, is a whole new thing, isn't it?
So, Santos. No question last season he was a force. What's really eye-catching about his season is that he was a force while being extremely unlucky. How can that be? Well, there's a stat that us basement-dwelling dorks who don't know the smell of dirt just love, and that's BABIP. Or, batting average of balls put in play. This is a stat that measures the average of batted balls that aren't a home run. For both pitchers and hitters, this always normalizes to .300. That's the league average. Last year, Santos's BABIP was .349. That's way high, and considered unlucky. This would explain how his WHIP -- walks/hits per innings pitched -- was a not-pretty 1.52. How was Santos then able to be so effective? Well, giving up two homers all year will help. In fact, opposing hitters only slugged .340 against him, 50 points lower than the league average. When you only give up singles, it takes a few of them to give up runs.
So what about this year? Santos's BABIP has dropped 80 points to .260, so he's getting lucky where he wasn't last year. Naturally, his WHIP has come down with it to 1.26. However, his walks are up by over one per nine innings, which is where Sox fans should get concerned. Santos has held the opponent to an even more ridiculous .261 slugging-percentage against, a full 130 points lower than the league average. But when you consider that his BABIP is lower than average, and that always comes back to .300 or so, and combine that with his walks being up, Santos could be headed for more than just the blip that we saw this weekend. You can't hold everyone to singles forever, but no one minds the occasional solo home run. It's the three-run jobs that get people antsy.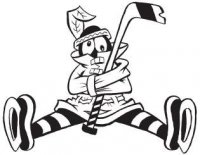 Sam Fels is the proprietor of The Committed Indian, an unofficial program for the Blackhawks. You may have seen him hocking the magazine outside the United Center at Gate 3. The program is also available for purchase online. Fels is a lifelong 'Hawks fan and he also writes for Second City Hockey .
Published at 12:14 PM CDT on Jun 13, 2011