UPDATE: The parents of Andrew "AJ" Freund, the 5-year-old boy missing from Crystal Lake, Illinois, were charged with murder Wednesday after police said they recovered what they believed to be the young boy's body. Read more here.
_______________________________________________________________
Five-year-old Andrew "AJ" Freund had been missing from a northwest Chicago suburb for exactly one week. His disappearance became a growing mystery as police, residents, neighbors and his family franticly searched for answers.
What happened to AJ?
Here's a look at the how the case has unfolded.
When did he go missing?
AJ's parents told police the boy was last seen around 9 p.m. Wednesday, when they put him to bed at their home in the 0-100 block of Dole Avenue. The next morning, the boy was reported missing to area police.
Missing Crystal Lake Boy: Listen to 911 Call From Family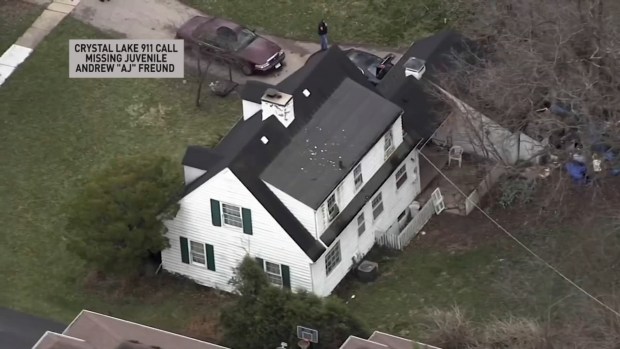 Why was no Amber Alert issued?
Police said an Amber Alert was not issued in the case because they have not yet found evidence the child was abducted.
Where does the investigation stand?
Joann Cunningham and Andrew Freund Sr. were both charged with the death and disappearance of AJ, authorities announced Wednesday.
Police were seen searching an area near Gayle Drive and Dean Street in Woodstock Wednesday morning, where the body of the boy was ultimately found.
Authorities said a body wrapped in plastic was uncovered from a remote location in the northwestern suburb of Woodstock, just miles from the Crystal Lake home where the boy was reported missing.
Police said both parents were questioned overnight and into Wednesday morning after information was obtained during a "forensic analysis of cell phone data."
"Once presented with the evidence obtained by investigators, both Joann and Andrew Sr. provided information that ultimately led to the recovery, what we believe is the recovery of deceased subject AJ," Crystal Lake Police Chief James Black.
The cause of death was not immediately known and police said it would be determined "at a later date."
In the days since AJ was reported missing, police focused their search on the family's Crystal Lake home, saying they did not believe the child was abducted.
Authorities said their investigation showed no evidence of an abduction and they remain centered on anyone who may have seen or had contact with the boy in the last hours before he disappeared.
Latest Updates From Crystal Lake
The child's mother was "uncooperative with police," authorities said. His father, Andrew Freund Sr., did speak with police Saturday afternoon, they noted.
Police spent hours covering hundreds of acres of land and water in the area surrounding the home.
"Several police search and rescue canine units, trained specifically to locate people... only picked up [Andrew Freund's] 'scent' within the residence indicating that Andrew had not walked away on foot."
Boat and sonar technicians from fire departments in the area searched under all docks and piers along the shore length of Crystal Lake, authorities said. They also searched within the lake itself off of the Main Beach area.
Who should you contact if you have information?
Anyone who may have information on the case is being asked to call (815) 356-3620. They can also text information along with the word CLPDTIP to 847411.
What about the family's history?
On Friday, officials revealed that the Illinois Department of Children and Family Services had taken the boy's younger brother into custody, and documents released revealed a troubled history for the suburban family, including allegations of neglect against the missing boy, whom authorities say was born with opiates in his system.
DCFS' involvement with the missing boy and his family began with his birth in 2013 and continued on and off through the end of 2018, DCFS communications director Jassen Strokosch said. The last contact between DCFS child protection staff and Andrew's family was in December of 2018, he said, while investigating allegations of abuse and neglect.
Click here for a timeline of DCFS' interactions with the family.
What did the parents say?
Father of Missing Crystal Lake Boy Speaks Out
Andrew Freund Sr. sent a message to his son via the media last week.
"Andrew, please come home," he said. "You are not in trouble."
Shortly after, the attorney for the boy's mother said she would no longer speak to police.
Joann Cunningham was cooperating with cops until her defense attorney, George Kililis, got the impression she was being treated as a suspect, he told reporters outside the home.
Parents of Missing Crystal Lake Boy Speak Out
"Ms. Cunningham doesn't know what happened to AJ and had nothing to do with the disappearance of AJ," he said. "Ms. Cunningham is worried sick, she's devastated and we are asking for a little bit of privacy and understanding and compassion from you guys (reporters) and the community. And we are asking for the community's help in trying to find AJ."
What does the community say?
A vigil was held at Main Beach in Crystal Lake on Saturday night, where residents lit candles and prayed for Aj's safe return.
Neighbors have left stuffed animals and even an Easter basket on the family's front lawn.
Crystal Lake Community Gathers at Vigil for Missing 5-Year-Old