First it was Irma.
Many people just had their power restored and thought they escaped the worst of it.
But Maria proved to be much different.
Many families in Humboldt Park are now going 24 hours without a word from their families.
"I've been calling, calling, calling," Madeline Cruz told NBC 5.
But so far--nothing.
Cruz--worried about her 88-year-old grandmother and the family's house that sits just miles from the coast line.
"I told my cousin last night, even if you get a signal just say, send something to me," Cruz said. "Even if it's a letter. Send something so I can know you guys are okay."
Chicagoans Wait For Word From Family in Hurricane-Battered Puerto Rico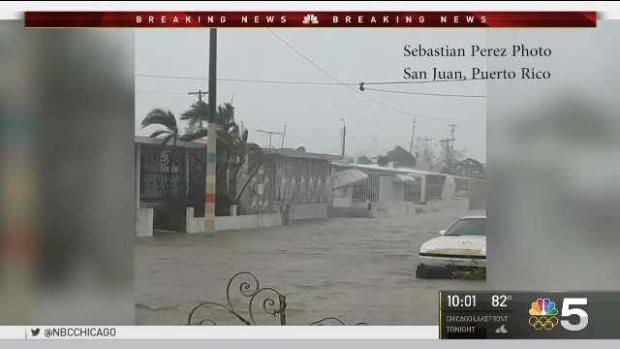 With the entire island out of power and cell service out--many here in Chicago haven't heard from their loved ones in Puerto Rico since Tuesday night.
Christina Pacione-Zayas say she can't reach her family on the island.
"You just kind of see the images and you wonder what is my family experiencing?" she said. "Are they nervous?"
She last heard from her 90-year-old grandmother-- Tuesday morning.
"I was on the train this morning and saw there was no power and I just started to get emotional," she said.
Both Cruz and Pacione-Zayas are a part of the Puerto Rican Agenda-- a group hosting an emergency hurricane fundraiser Friday at the Segundo Ruiz Belvis center in the Hermosa neighborhood.
Donations will go to those hurricane victims in Puerto Rico who are faced with a long recovery.
"I'm just praying that my family is safe," Cruz said.
The fundraiser will run from 7-11 p.m. and requires a minim $25 donation. It includes a silent auction.