A 14-week old puppy was stolen from a suburban Chicago pet store Friday in an act that was captured on surveillance video, store officials said.
Precious, a young brindle boxer puppy, was nabbed around 5:15 p.m. from Petland Naperville at 720 S. Route 59, according to the shop's owner Adam Stachowiak.
Stachowiak said two women and a man came into the store and asked to play with the boxer puppy.
"They went right to the boxer and asked to play with her," he said.
The two women then distracted employees while the man took the dog.
NBC Chicago Adopt-A-Pet Animals
It is not the first time someone has stolen a puppy from the store.
Last fall, a woman hid a Havanese puppy under her jacket and walked out of the store. The woman, who was also suspected in other pet store robberies in the Chicago-area and Missouri, later surrendered to St. Louis police and pleaded guilty to the crime earlier this year.
Water Therapy Teaches Pup To Walk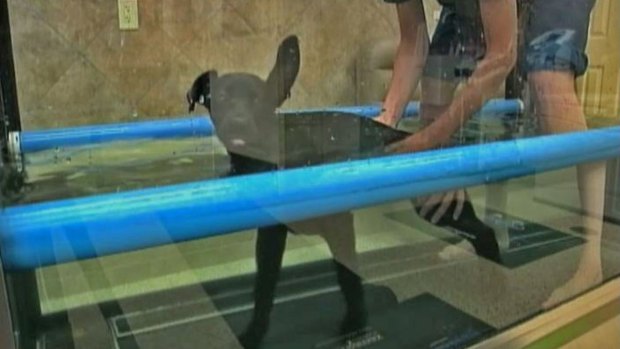 "Unfortunately it happens about once a year," said Stachowiak.
Police could not immediately be reached for comment Saturday, but Stachowiak said a police report has been filed.
Store officials posted surveillance photos of multiple suspects on their Facebook page Friday asking for help locating her.
Stachowiak is asking that anyone with information surrounding the theft, or anyone who believes they have seen Precious, calls Petkey at 866-699-3463 or contacts a local police station. Precious does have a microchip, he said.
Published at 2:52 PM CDT on Aug 9, 2014 | Updated at 2:57 PM CDT on Aug 9, 2014