This week the National League's best team, the Philadelphia Phillies, visits Wrigley Field.
The two clubs could not be more different. One is strutting to its fifth straight-division title, is only a year removed from consecutive National League pennants, and two years removed from a championship. The other is a baseball version of a funhouse, weird mirrors and clowns and all. But how did it get here so quickly?
Because it was only a mere three years ago that the Phillies and Cubs were seemingly headed for a crash in the 2008 NLCS. The Cubs were the league's best team, having won 97 games. The Phillies were the second best team, having won 92 games. They were both appearing in their second consecutive postseason, having scraped to division titles the year before. Both were swept out of the 2007 playoffs by what appeared to be inferior teams. Both were among the higher spenders in baseball, and both played to rabid fanbases cramming their park like it was Altimont.
But you know how that went down. The Cubs played their worst three games of the season in losing to the Dodgers, while the Fightin's went 11-3 and strolled to a World Series title. The Phillies-Cubs axis of dominance would have to wait another year to be fully engaged.
But it never happened. Why? Did the Phillies make so many moves that the Cubs couldn't keep up? Not really. Raul Ibanez replaced Pat Burrell in left. And there was that small trade for some journeyman named Cliff Lee midseason. And the Phillies returned to the World Series.
The Cubs? Out went Mark DeRosa, in came Milton Bradley. While everyone would love to blame ol' Crazy Gameboy for everything, that doesn't tell the whole story. The starting pitching was just as good. But Alfonso Soriano was awful, and Mike Fontenot couldn't fill DeRosa's shoes at second. Geo Soto couldn't get away from the postgame spread. Rich Harden wasn't as dominant. And Lou Pinella's unfathomable decison to have Kevin Gregg close cost the Cubs numerous games when Marmol was already groomed (and Jim Hendry's decision to bring him in the first place will take careful study by those with the resources).
It got worse last year, when the Phillies were able to use their system again to acquire Roy Halladay, while the Cubs couldn't spend more and didn't have a system. This past winter, because they hadn't radically overspent, they could bring in Lee again to join Halladay, this after trading for Roy Oswaltt. Because the Cubs can't produce their own, or even fake it, they can't make these moves. And now they're financially tapped out. This is why the Phillies are favorites again, and the Cubs are so far up the track they'll turn the lights out before they get in under the wire. Or they'll just be put down.
This only proves the importance of having a farm system that can produce more than gas and guys who make it when they're 29. We can only hope Tom Ricketts is paying close attention to this series, as he sees a team that was able to keep adding to an already dominant team, plying their trade against one that had to go all in on one hand and didn't get the draw.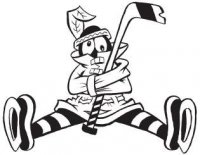 Sam Fels is the proprietor of The Committed Indian, an unofficial program for the Blackhawks. You may have seen him hocking the magazine outside the United Center at Gate 3. The program is also available for purchase online. Fels is a lifelong 'Hawks fan and he also writes for Second City Hockey .
Published at 1:11 PM CDT on Jul 19, 2011