I could question the ham-handed way in which the Cubs parted ways with General Manager Jim Hendry.
Could wonder why a guy was fired on July 22nd and kept his job until now, and could wonder why a GM with no skin in the game was allowed to watch the wheel in the sky keep on turning on Trade Deadline Day instead of having someone make moves to help the organization's future.
Then sign his picks.
But I think I'd rather just enjoy the "better late than never" aspect of Jim Hendry's firing today.
Late it was.
There was a serious case to be made that Hendry should have gone after the 2009 season, or as it will be forever known, "The Night Milton Drove Old Dixie Down."
Ricketts had just acquired the team, and it was easy to see that Hendry had taken the 97-win machine from the year before, and tinkered with it until he broke it. It was easy to see then how baseball was passing him by; how he didn't see the game the way it was now unfolding. But that's OK, one year removed from being the best team in the National League is not always the most acceptable time to fire a GM. And that team was in 1st place on August 1st.
But keeping Hendry after the disaster of 2010 was a crime. Two bad seasons, with that payroll, in this market, is unacceptable.
Maybe Tom Ricketts was suckered by the strong finish -- I think a lot of us were. I advocated hiring Mike Quade after it. Shows what I know.
But when this season went off the rails -- and it was still May when it did -- that's probably when the trigger should have been pulled. Don't give Hendry another draft to bring in another crop of players who are great athletes shorn of baseball instincts. Don't give him another trade deadline to blow and not move the club forward.
But what's done is done, and the move that had to be made has been. With it comes the slight glimmer of hope that the baseball operations of the Cubs could move into the 21st Century. But does anyone trust Ricketts to make the right hire?
Based on his track record so far of biffing....well, everything, confidence is not exactly bubbling right now.
And we must thank Jim Hendry, too. Though he saddled this club with some ridiculous contracts that have really hamstrung it recently, he provided Cubs fans with three playoff teams in six years. Name another GM who did that.
You can't, because there hasn't been one.
Along with that, and in tandem with Dusty Baker -- another who will never get off the "wrath" list around here -- the bar for the Cubs has been raised.
It is because of their work and what they did actually accomplish that Cubs fans expect, rather than hope, for a World Series winner. That wasn't the case around here for a long time. It's because of that bar that moves like today have to be made. And it's because of that bar that there's hope, however slight.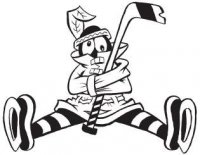 Sam Fels is the proprietor of The Committed Indian, an unofficial program for the Blackhawks. You may have seen him hocking the magazine outside the United Center at Gate 3. The program is also available for purchase online. Fels is a lifelong 'Hawks fan and he also writes for Second City Hockey .
Published at 4:08 PM CDT on Aug 19, 2011