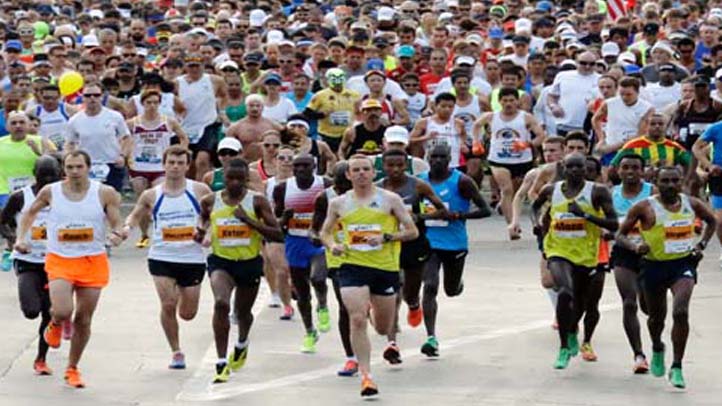 April offers no excuses for lounging indoors.
The Chicagoland area is hosting races of all distances and sizes every weekend next month. Whether you're just starting out with a 5K or are ready to skip ahead to a 50K, there's a race for everyone in April.
April 5
15th Annual Chicago Lakefront 50K: When the distance of a marathon just isn't enough, it might be time to try an ultramarathon. This Chicago race is small, but together its participants complete quite a distance. The 31-mile race will take place on the Chicago lakefront, beginning and ending in Lincoln Park. This year's event is honoring the late Chicagoan George Cheung for his dedication to Chicago running. Cheung was an ultramarathoner himself who ran double marathons and even a 100-kilometer race.
Chicago Quarter Marathon: New this year, the Chicago Quarter Marathon starts at Soldier Field and runs south down the lakeshore. It is Chicago's only 6.55-mile race. Following the completion of the race, participants can attend a post-race party with food, awards and a live band.
April 6
Chi Town Half Marathon and 10K: A great way to test your marathon shape, the Chi Town Half Marathon and 10K offers two long-distance races. The race starts in Lincoln Park and runs north and south along the lakefront. At the end of the race, enjoy food and a complementary massage.
April 12
Race to Wrigley: The 9th Annual Race to Wrigley is a 5K race that starts and finishes in Wrigley Field. The top fundraising individual receives an official jersey signed by a Cubs player, and the top fundraising team receives tickets to the April 22 Cubs game against the Arizona Diamondbacks.
Double Down 10K and 20K: This small trail run organized by the trail running group Muddy Monk takes runners through a tree-lined race course in Chicagoland. (The actual location is still pending.) If you want to give the 20K race a try but are afraid to commit, this race lets you decide up until you finish the 10K portion.
April 13
The Race That's Good For Life: This Oak Park 5K is a family friendly event. In addition to the main event, there's also a one-mile race for children ages 5-12 and a junior dash for kids under 5. In its 33rd year, this race is organized by the long-running Oak Park Runners Club, and it has become an Oak Park tradition.
Arbor Day 10K: This race is perfect for the runner who can't get enough of nature. The Morton Arboretum in Lisle, Ill., is hosting the race through its forested, green terrain. Embrace your inner treehugger for this one.
April 19
Bunny Rock Half Marathon and 5K: Start Easter weekend off with a bunny- and 80's-rock-themed race. For this lighthearted race, runners will receive bunny ears and sunglasses in addition to the usual t-shirt during packet pick-up. After the race, join the festivities at the post-race party, including an Easter egg hunt for the kids and a petting zoo.
April 27
Ravenswood Run: The 18th annual Ravenswood Run is true neighborhood race. Participants race through the streets of Ravenswood and Lincoln Square, and there are even 20-, 50- and 100-yard dashes for the kids. A post-race pancake breakfast follows the 5K event if you donate $10 to the Ravenswood Community Services Food Pantry.