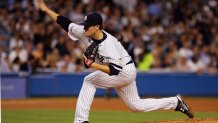 Chicago-area swimmers and divers will look to jump in head first during Monday's medal events in Rio.
It will be a big day for water athletes, with some making their Olympic debuts and veterans getting their chance at their first Olympic medals.
From the board to the water, it will be all about speed, grace and form.
Here are five key things to watch Monday: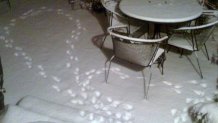 1. King and Murphy Win Gold, Conor Dwyer Earns Bronze
Midwest swimmers brought the competition to the Olympic swimming pool Monday with several local athletes walking away with Olympic medals.
Winnetka's Conor Dwyer got his first individual Olympic medal when he earned the bronze during the men's 200m freestyle Monday night.
Dwyer finished behind Chad le Clos of South Africa, and 2012 silver medalist Sun Yang of China, who outsprinted le Clos in the final 50 meters to win gold in 1:44.65.
Dwyer finished 4th in the 400m freestyle finals Saturday night and perhaps that disappointment gave him the surge necessary for an impressive performance Sunday and Monday.
Lilly King of Evansville, Indiana, grabbed gold Monday night in the women's 100m breaststroke final. Rival Yulia Efimova was .57 seconds behind King, who finished in 1 minute, 4.93 seconds. American Katie Meili won bronze.
King, a 19-year-old student at Indiana University, is in her first Olympics.
Before King and Efimova faced off, Ryan Murphy, of Palos Heights, set an Olympic record and won the United States' third swimming gold medal in Rio by taking the 100-meter backstroke on Monday night in 51.97 seconds.
Murphy beat out defending Olympic champion Matt Grevers in the U.S. Olympic Trials to earn his spot on the team.
Olivia Smoliga from Glenview took 6th but did not medal in the women's 100m backstroke final Monday night.
Smoliga competed in the 100m backstroke semifinals Sunday night, clocking a time of 59.35 to claim the 8th spot in the finals.
[[389347571, C]]
2. Indiana's David Boudia and Steele Johnson Take Silver
American's David Boudia and Steele Johnson turned in a strong performance to score 457.11 points and secure the silver medal. China finished nearly 40 points ahead with 496.98.
Boudia made his first Olympic appearance in the 2008 Beijing Olympics as a 19-year-old. There, he finished fifth individually on the 10m platform. But in London, he became the Olympic champion, winning gold on the platform and bronze in the synchronized platform.
The Rio Games mark Johnson's first Olympics. Johnson also qualified in the individual 10-meter.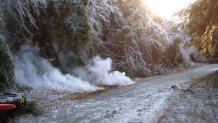 3. All About the Teams
Monday's events featured a whole lot of teamwork.
With locals competing in the Women's basketball match, the men's basketball match and the women's volleyball match, there was no shortage of team action.
Elena Delle Donne, Tamika Catchings, Seimone Augustus, Sylvia Fowels, Maya Moore and Lindsay Whalen helped lead Team USA's women's basketball squad to a victory against Spain Monday. The final score was 103-63.
Team USA dug deep for a hard-fought victory in five sets over the Netherlands on Monday in the preliminary stage of the women's indoor volleyball tournament. The Dutch team pulled off a surprising upset of gold-medal challenger China on the first day of volleyball action Saturday, beating the No. 3-ranked team in the world in five sets. The U.S. team got out to a flat start, losing the first set 25-18 and helping the Dutch team along with a slew of service faults. The Americans responded with a 25-18 victory in the second set. At one spot in the middle of the set, USA recorded seven of eight points.
Team USA Basketball took off after a sluggish first quarter to easily defeat a Venezuelan men's squad making its first Olympic appearance since 1992. The Americans regrouped in the second quarter and romped over Venezuela 113-69 on Monday, taking another step toward a possible third straight gold medal.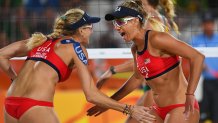 4. Beach Volleyball: Walsh Jennings, Ross Cruise to 2nd Victory
Defending Olympic champion Kerri Walsh Jennings and her new partner April Ross kept up their momentum Monday night, winning their second beach volleyball match in a row.
China's Fan Wang and Yuan Yue were no match for the Americans, losing in two sets, 21-16, 21-9.
Walsh Jennings and Ross have not quite clinched a spot in the knockout stage of the tournament, but they have guaranteed that they won't be eliminated in pool play. Walsh Jennings and former partner Misty May-Treanor never lost a set in winning gold in Athens and Beijing. They lost only one set in London, where they beat Ross and Jennifer Kessy in the championship.
The duo played in the featured midnight timeslot for the second straight match. Their prior match, a victory over Australia, began at 12:34 a.m. Sunday morning.
5. Michael Phelps Goes for More Gold
Michael Phelps has another chance to add to his Olympic medal haul Tuesday after qualifying for the 200m butterfly finals on a night that saw fellow American swimmers Lilly King and Ryan Murphy win gold in the pool.
His first individual event, the 200m butterfly is one where Phelps already possesses two gold medals and one silver. While a number of incidents plagued Phelps following the 2012 London Games, the Olympian says he's more focused than ever and determined to leave the sport on his own terms.
"I haven't trained like this in a decade," Phelps told Matt Lauer in an earlier TODAY interview. "I want to retire how I want to retire and I have a great opportunity to do that."