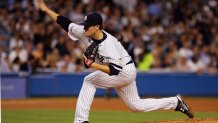 Talk about an action-packed kick-off to the first weekend of the 2016 Rio Olympics.
While Friday's Opening Ceremony was nothing short of exciting, Saturday's events featured a slew of local and prominent athletes.
Athletes in sports from swimming to fencing to basketball hit the global stage in effort to make their marks in history.
Here are five key things to watch Saturday:
1. Winnetka's Conor Dwyer Tries for His Second Olympic Medal
Conor Dwyer may be considered a veteran on Team USA, but the Olympic swimmer from suburban Chicago says he has some "unfinished business" to attend to in Rio.
With Team Dwyer rooting from the sidelines, the Winnetka native competed in the Men's 400m Freestyle race, posting the fastest time during the heats but falling short of a medal in the finals.
This marks Dwyer's second consecutive Olympics representing the U.S. team in the event. He finished fifth in the event overall in the 2012 Games and won the gold medal as a member of the 4 × 200M freestyle relay team.
"I was 23 on the relay at the time, being with Michael [Phelps], Ryan [Lochte], Ricky [Berens] – all veterans on our Olympic squad – was an amazing experience," he said.
Now, in 2016, the 27-year-old had his sights set on not only on a winning another relay medal, but grabbing his first individual medal.
"I still have some unfinished business in the sport that I am looking forward to accomplishing in Rio," he said.
Dwyer finished second during the Olympic trials in June, then won his 400m freestyle heat with a time of 3:43:42. He finished fourth in the finals with a time of 3:44.01. He'll have another chance to medal individually in the 200M freestyle race.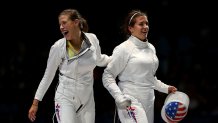 2. Hurley Sisters Compete, Suffer Individual Losses
Kelley and Courtney Hurley began their quest for gold Saturday, but were both eliminated from the individual épée competition in the Round of 32.
The sisters are in their second Olympic Games together and are among seven sets of siblings competing in Rio this year.
The sisters both have Olympic medals under their belts, taking home the bronze medal in the Women's Team Epee at the London Games in 2012
They were aiming for their first individual medals Saturday when they both suffered heartbreaking losses. Courtney faced defending gold medalist Yana Shemyakina of the Ukraine, losing in one minute sudden death overtime, 14-13.
Kelley competed against Brazil's Nathalie Moellhausen, losing 12-15 in their bout.
Finals for the individual event begin at 3:15 p.m. CT. and the Hurley sisters will compete again in the team épée competition on August 11.
Watch live coverage of the event.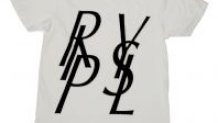 3. Naperville's Kevin Cordes Makes His Olympic Debut
Naperville native Kevin Cordes made his Olympic debut Saturday in a make-or-break moment for the young swimmer.
Cordes competed in the men's 100m breaststroke event beginning at 1:04 p.m. CT
While new to Team USA, the 22-year-old hoped his love of competition will help him thrive during his biggest competition yet.
"I love to race," he said. "The competition of swimming is unlike any other."
Cordes, in some ways, isn't your "typical" swimmer.
"For me, I wasn't a typical swimmer as in the old school kind of viewpoint," he said. "I wasn't as good at any of the other strokes besides breast stroke and some people might throw you aside because of that."
And he doesn't train like others do either.
"He doesn't train like a traditional athlete," said his former coach from the Fox Valley Swim Club, David Krotiak. "The things that he did like train and still do to this day, he loved the dry land challenges and weight lifting."
"I think he's one of the best swimmers in the world and best breast strokers in the world and he's definitely in the conversation," Krotiak said.
While he won't be able to medal Saturday in the event, a potential victory in Sunday's finals isn't out of the question.
Cordes finished first in the U.S. trials in the 100m breaststroke with a time of 59:18. In Saturday's qualifying heats, Cordes notched the fourth fastest time of 59.13s. He finished second in the event's semifinals Saturday night, earning a chance to medal in the finals on Sunday at 8:53 p.m. CT.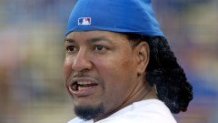 4. U.S. Men's Basketball Defeats China 119-62
Led by an All-Star squad that includes Kevin Durant, Carmelo Anthony and Kyrie Irving, Team USA faced China in the first game for both squads.
Kevin Durant scored 25 points and DeMarcus Cousins added 17 to help the United States kick off its quest for a third straight Olympic title with a 119-62 victory.
The U.S. and China met twice in exhibition games leading up to the Olympics and the U.S. won both, by a combined 99 points. That same considerable talent gap was on display Saturday as the Americans raced to a commanding lead.
Carmelo Anthony, already in possession of two gold medals and bronze, looks to become the most decorated men's basketball player in U.S. history as he participates in his fourth Olympic Games.
"He's going to be the leader of this team along with (Kevin Durant). And to have somebody who, this will be his fourth Olympics, that level of experience - and he's still a great player - and commitment, it's a godsend, really," U.S. coach Mike Krzyzewski said. "He'll be one of key factors in us attempting to win the gold medal."
Team USA takes on Venezuela next, on Monday at 5 p.m. CT.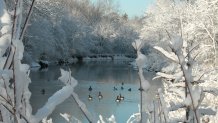 5. U.S. Women's Soccer Beats France 1-0
After defeating New Zealand 2-0 Wednesday night, the U.S. women's soccer team took on France in their pursuit of a fourth straight gold medal. Ranked No. 3 in the world, France was no pushover, but a second-half goal by Carli Lloyd made the difference.
The U.S. women's soccer team beat France 1-0 after Tobin Heath shot from the left side and Lloyd scored on the rebound.
The game was notable for U.S. goalkeeper Hope Solo, who was appearing in her 200th game for the U.S. women's national team. She's the first goalkeeper in history to reach the milestone in international play — no small feat.
The team is also trying to become the first squad to win Olympic Gold after winning the World Cup, a feat they'll try to accomplish without retired veteran stars Abby Wambach and Lauren Holiday.
The women continue their quest to defend their title on August 9 at 5 p.m. against Colombia.