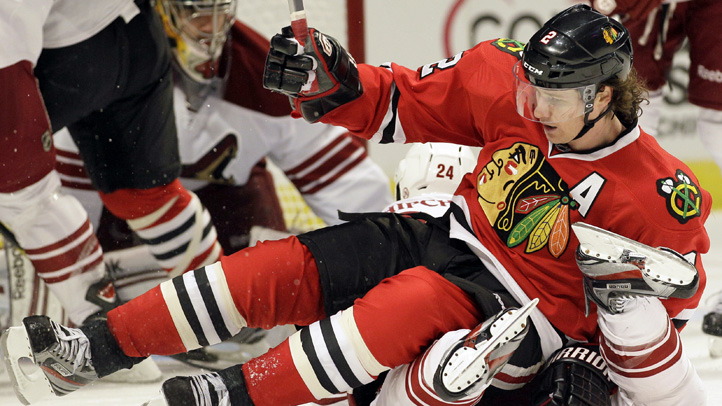 The gavel's down, the court adjourned, the jurors gone home. Now we have a verdict.
Duncan Keith has been suspended for five games for his elbow on Daniel Sedin. It could have been worse, it could have been better. And now we come to that frustrating phrase, "It is what is is."
The league took into consideration that this was an elbow and intent to injure, while not really weighing any retalitory aspect that came before.
What's frustrating for Hawks fans is that just a night before, Shane Doan was suspended for a similar elbow on Dallas's Jamie Benn. Doan had a previous record, which Keith does not, and het got three games. The difference appears to be that Daniel Sedin was injured, and Benn was not. Whether each of the elbows is more malicious because of that is hard to tell. Everyone's different when it comes to head injuries, as we know.
The other frustrating part for Hawks fans is there's been nary a peep about Sedin's earlier hit on Keith, which was a late blow to the head to a player in a vulnerable position. But because the Hawks didn't make a stink about it like the Canucks did about Keith's, or the fact that Keith wasn't hurt, it appears it's going to fade into the night. Not that it should. If Keith is getting five games, at the very least Sedin should face a fine.
But none of that really matters. Keith cannot return until at Minnesota on April 5th. He's getting almost a two week break when he'd least want one. The Hawks have to find a way past the Predators twice, the Devils, the Blues, and the WIld without him.
And the overridinig fact here is that as the team's leading d-man, as an alternate captain, Keith simply cannot put himself in this kind of position. He's far too valuable to be lost for this amount of time. He's lucky the Hawks have pretty much wrapped up a playoff spot, and likely the sixth seed by now, otherwise his absence would be extremely costly indeed. .