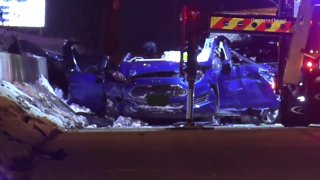 Four people, including two children, were killed when the vehicle they were sitting in was hit by another vehicle in suburban Rolling Meadows on Saturday night.
According to Illinois State Police, the four individuals were sitting inside of a Ford sedan that was parked on the right shoulder of Illinois 53 near Kirchoff Road at approximately 11:33 p.m. when a Jeep, driven by a 32-year-old Bellwood man, slammed into the rear of the vehicle.
The force of the impact sent both vehicles skidding across lanes of traffic before coming to rest on the opposite shoulder, police said.
Authorities say the driver of the sedan, Stacy Harris, 45, of Schaumburg, was killed in the crash. Three other passengers, Herlanda Harris, 47, from Chicago, Jeremy Johnson, 17, from Schaumburg and a 6-year-old boy from Chicago also died in the crash.
The driver of the Jeep was taken to an area hospital with non-life-threatening injuries, police said.
The crash remains under investigation.