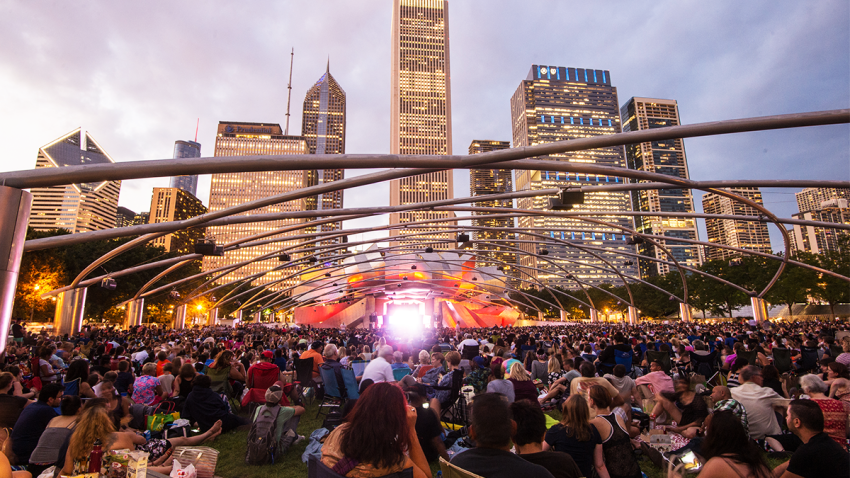 Get your blankets, snacks, and bottles of wine ready, because Chicago's popular outdoor summer movie series will soon be making its return to Millennium Park.
Screenings begin June 13th with the Chicago classic "Blues Brothers," Mayor Rahm Emanuel's office announced late Sunday. Other popular flicks in the 2017 lineup include "Caddyshack," "Wayne's World," "Hidden Figures," "Ghost," and "The Shining," according to the announcement.
All films are free and start at 6:30 p.m. every Tuesday night at the Jay Pritzker Pavilion at 201 E. Randolph St.
Seating at the pavilion is first-come, first-served, or guests can lounge under the stars on the pavilion's Great Lawn. More information can be found on the City of Chicago's website here.
Full 2017 schedule:
"The Blues Brothers" – June 13 (1980, rated R for sexual content, nudity, some language and drug use, 132 minutes)
"Caddyshack" – June 20 (1980, rated R for sexual content, nudity, some language and drug use, 98 minutes)
"Julie and Julia" – June 27 (2009, rated PG-13, 123 minutes)
"El Norte" – July 11 (1983, rated R for some disturbing violent content and brief language, 141 minutes)
"La La Land" – July 18 (2016, rated PG-13, 128 minutes)
"Network" – July 25 (1976, rated R for strong language, some sexual content, and a scene of violence, 121 minutes)
"Bend it Like Beckham" – Aug. 1 (2002, rated PG-13, 112 minutes)
"Ghost" & "The Shining" – Aug. 8

FULL MOON DOUBLE FEATURE: "Ghost" (1990, rated PG-13, 127 minutes) "The Shining" (1980, rated R for strong violence, strong language, 144 minutes)

"Hidden Figures" – Aug. 15 (2016, rated PG, 127 minutes)
"Five Heartbeats" – Aug. 22 (1991, rated R for language, some sexual content, 122 minutes)
"Snow White & the Seven Dwarfs" – Thurs., Aug. 24 at 10 a.m.

80th Anniversary Family Daytime Screening (1937, rated G, 83 minutes)

"The Princess Bride" – August 29 (1987, rated PG, 98 minutes)
"Wayne's World" – September 5 (1992, rated PG-13, 95 minutes)