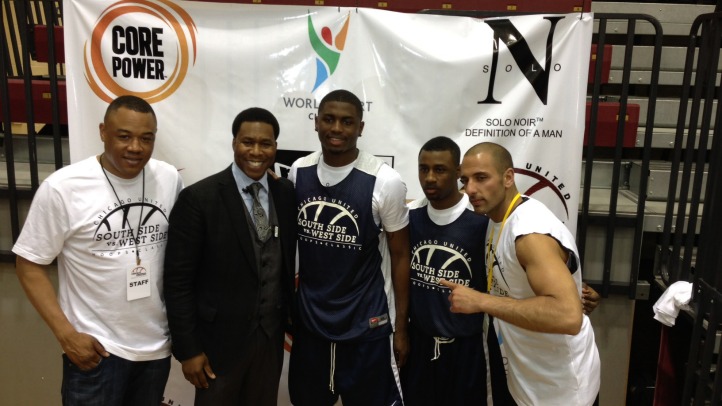 As the weather breaks outside, one of the unfortunate side effects in the City of Chicago is the violence that breaks out in the streets. This year has been no different, as a number of people have been killed since late April when things began to warm up in the city.
On Saturday, some of the areas best high school basketball players from the South and West sides of town competed in the Chicago United Hoops Classic at the Gerald E. Ratner Center on the University of Chicago campus, in an event aimed at bringing awareness and hopefully an end to all of the senseless acts of street violence that occur all too often.
"Growing up in Chicago, it was always the South side versus the West side – which was a good rivalry – but as we started to see all of the crime in our community, we wanted to bring a basketball game to the table with the purpose of silencing the violence on these streets," said Jobba Maxey, one of creators of the Chicago United Hoops Classic which is now in its third year.
The game was initially put on to honor Chicago Bulls legend Norm Van Lier who had a passion for and was a firm believer in helping kids reach better circumstances in life through education. Van Lier also understood the power of basketball to bring people together and after the success of the inaugural event, the Chicago United Hoops Classic has continued to grow year after year.
This year, some big name players from the area competed in the game including Morgan Park's Billy Garrett who will attend DePaul next year, and No. 1 wide receiver prospect in the country from Crete-Monee, Laquon Treadwell, who will ditch his basketball sneakers and lace up his cleats to play football for Ole Miss in the fall. Both represented the South Side who won for the first time in the history of the event. Some of the standouts on the West side included high-scoring guard from Henry Ford Academy Powerhouse, Elliot Cole who has committed to Chicago State, and Bolingbrook's Ben Moore who will be playing for NBA coaching legend Larry Brown at Southern Methodist University next year.
The event also featured local sponsorships from New Era Chicago who provided caps for all of the players, Nike Chicago who provided shoes and apparel for the game, Core Power, a new milk-based, protein recovery drink, and Greater Than, a coconut water based sports drink.
Additionally, Tony McCoy, a Chicago Park District supervisor who's son was killed by gun violence just days shy of heading off to Champaign to play basketball at Parkland Community College, was honored, as was the late Mac "Pops" Irvin who was recognized for his contributions to basketball and to the youth of this city, and Simeon standout Jabari Parker was on hand to present his father, Sonny, with a lifetime achievement award for his impact on many communities on the South side.
Also on hand was Morgan Park alum and member of this year's NCAA National Champion Louisville Cardinal basketball squad, Wayne Blackshear.
"My dad has passed up a lot of scouting jobs in the NBA and in college because he loves the kids of Chicago so much," said Parker. "Not only has he been a positive inspiration in my life, but in the lives of so many other kids in this city."
Simeon head coach Robert Smith coached the South Side squad and understands the importance of an event like this to a city whose violence has made it a topic of national debate and discussion.
"I'm glad I was able to be a part of [the Chicago United Hoops Classic] and I hope we can continue it," said Smith. "An event with the purpose of bringing an end to the violence is definitely needed inside of Chicago. I have my own kids, and of course the players on my basketball team, as well as the kids of other friends and family members, and I just want them all to be safe."
Normal 0 false false false EN-US JA X-NONE /* Style Definitions */ table.MsoNormalTable {mso-style-name:"Table Normal"; mso-tstyle-rowband-size:0; mso-tstyle-colband-size:0; mso-style-noshow:yes; mso-style-priority:99; mso-style-parent:""; mso-padding-alt:0in 5.4pt 0in 5.4pt; mso-para-margin:0in; mso-para-margin-bottom:.0001pt; mso-pagination:widow-orphan; font-size:12.0pt; font-family:Cambria; mso-ascii-font-family:Cambria; mso-ascii-theme-font:minor-latin; mso-hansi-font-family:Cambria; mso-hansi-theme-font:minor-latin;} Follow Outside Shot on Twitter (@Outside_Shot) for more Bulls news and information