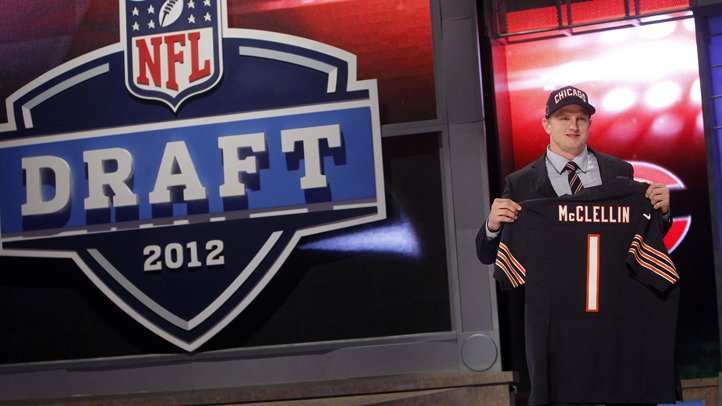 The Bears decided to use their first-round pick on defense, taking Shea McClellin from Boise State.

"It's unbelievable. Just to play alongside guys like Julius Peppers and Brian Urlacher is really going to be great and I can't wait to get out there," said McClellin.

He played defensive end in college, but his size and speed can put him either on the line or as a linebacker.
"One of the most underrated defensive ends in the collegiate ranks, McClellin is more than likely to shift to outside linebacker at the pro level, thanks to his superb athleticism, non-stop motor, lateral agility and closing speed," the Bears said in a statement released immediately after the announcement.

At 6-foot-3, 260 lbs, he is smaller than average NFL defensive lineman, but is a protoypical linebacker. At the combine, he was the sixth-fastest. In his time at Boise State, he had 130 tackles, 22.5 sacks, plus played a key role on special teams. He also helped create turnovers, getting four interceptions and two forced fumbles.

"This is a very natural player," Bears GM Phil Emery said at a press event. "We're looking for guys that can contribute right away."

While it wasn't a surprise to see the Bears go with a defensive player, McClellin was a bit of a surprise. He's not a pure lineman. The Bears signed veteran linebacker Geno Hayes last week to add depth at linebacker, so it remains to be seen how the Bears will use him. He can be a fast pass rusher playing opposite of Julius Peppers or line up with the linebacking corps.
The Bears did plenty of pre-draft work on him, attending his Pro Day. Emery said McClellin is a four-down player.

The team said McClellin will wear #99.

Trades Dominate First Round

With so much wheeling and dealing, maybe the NFL draft should move to Wall Street.

Minutes before Andrew Luck and Robert Griffin III went 1-2 to the Colts and Redskins on Thursday night, the draft turned into a deal-a-thon. Through the first seven picks, only Indianapolis kept its original draft spot, and a total of eight trades were made in first round.

The Browns, Jaguars, Cowboys and Eagles all traded up to get players they coveted. The Vikings dropped a spot and still came away with the guy they wanted.

NBC Sports: NFL Draft Trade Tracker | Draft Selections
Copyright FREEL - NBC Local Media