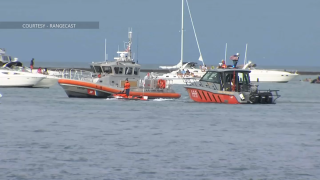 Two women were taken to a Chicago hospital with serious injuries following a boating accident Saturday evening in Lake Michigan, authorities said.
At approximately 5 p.m., the Chicago Fire Department was called to an area known as "the Playpen," north of Navy Pier, regarding a boating accident. Authorities revealed a licensed captain tried to anchor the rental boat he was operating, and the anchor device malfunctioned.
The boat started drifting, then as the captain was maneuvering the boat, he ran over a floating raft with two women on it, according to the Illinois Conservation Police. Two women, 28 and 34 years old, were taken to Northwestern Memorial Hospital and listed in critical condition.
Information about their injuries wasn't immediately available.
The incident remains under investigation.