Two suburban heroes helped put a registered sex offender in jail after he tried to abduct a student Thursday, and now the teen is publicly thanking them and warning other potential victims.
Just after 8:15 a.m. Thursday, Thornton High School student Robert House was walking near 162nd Street and Carse Avenue in suburban Harvey when a green Chevrolet sedan pulled up alongside the boy.
Behind the wheel was 43-year-old Sean Drysale, police say, who was recently released from prison a year ago after serving 10 years for a previous sexual assault.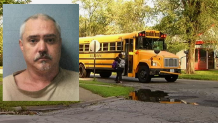 When two Harvey Public Works Department employees noticed what was going on, they approached Drysale to end the assault and called police, according to authorities.
Because of the men stepping in, House was able to get away and ran home to his parents.
Drysdale, of Holland, Illinois, was placed under and charged with one count of attempted child abduction.
The 16-year-old victim left school briefly to speak at a Friday news conference, where he said he is "devastated," and reminding other teens that what happened to him could happen to anyone.