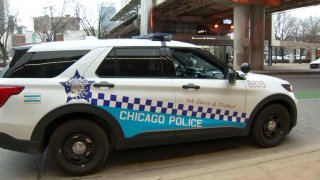 One person was fatally shot and two others sustained injuries after gunfire rang out on a CTA bus in Chicago's West Garfield Park neighborhood on Sunday.
According to Chicago fire officials, paramedics were called to the scene near the intersection of West Gladys and South Pulaski at approximately 1:32 p.m.
Police say two unknown male offenders entered a bus, proceeded to go toward the back and fired shots at two male victims. The offenders then fled eastbound, authorities said.
A male victim, whose age is unknown, was shot in the head and taken to Mount Sinai Hospital. He later died as a result of his injuries.
A second victim in the shooting, a 24-year-old man, suffered a graze wound, and refused treatment at the scene.
A third person was injured when the bus came to an abrupt stop following the shooting, suffering a rib injury, according to fire officials.
The CTA confirmed that there was a disturbance on board a southbound No. 53 bus on Sunday afternoon, but could not provide any additional details.
No arrests have been made as Area Four detectives investigate.