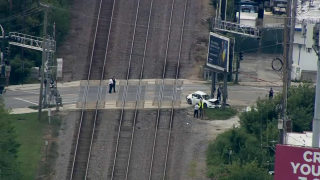 Extensive delays were possible on Metra's Union Pacific Northwest Line after a train struck a vehicle Friday afternoon, seriously injuring two people in Chicago's Norwood Park neighborhood, authorities said.
The collision was reported before 4:30 p.m. near North Nagle and North Avondale avenues, just east of the Norwood Park Metra station. Inbound and outbound train movement was halted following the incident and remained stopped as of 5:19 p.m., Metra tweeted.
The transit agency said extensive delays were anticipated. When service was expected to resume remained unclear Friday evening.
Two men were injured in the crash and transported to Advocate Lutheran General Hospital in serious-to-critical condition, according to the Chicago Fire Department.
As of Friday evening, authorities hadn't released additional information about the crash, including a potential cause.