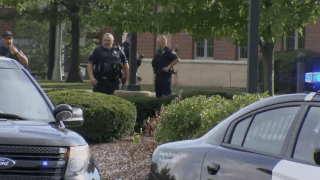 Two men were shot during an altercation that erupted when they met with a third person to make a "transaction" Sunday in Naperville, police said.
At approximately 2:11 p.m., officers with the Naperville Police Department responded to the 600 block of Amersale Drive for a report of shots fired, according to a news release. No victims were found at the scene. A short time later, police in neighboring Aurora received a 911 call about a shooting and found two male victims near McCoy and Vaughn Drives.
Both men were transported to area hospitals in unknown condition.
A preliminary investigation revealed the parties agreed to meet at the location on Amersale Drive "to make a transaction" and got into an altercation, police said. The nature of the "transaction" wasn't known by law enforcement.
The offender, who was said to be in his 20s, fled in a dark-colored sedan in an unknown direction, police stated.
Anyone with information was asked to call the Naperville Police Department at 630-420-6665.