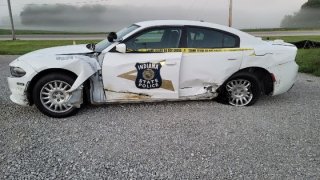 A vehicle hit two Indiana State Troopers on Saturday morning on Interstate 80.
The troopers were conducting a traffic stop on the westbound side of I-80 when a silver 2013 Subaru Legacy struck their car, Indiana State Police said.
Both troopers were inside the vehicle when the crash occurred. According to police, the two were taken to a hospital for evaluation and released.
The driver of the Subaru was not injured in the crash and refused medical treatment, police said.
Police said they transported the driver, a 27-year-old man, to Lake County Jail and incarnated him with a preliminary charge of operating a vehicle while intoxicated and endangering a person, which is a Class A misdemeanor.
No other vehicles were involved in the accident. The troopers were assisted on-scene by the Gary Fire Department, according to police.