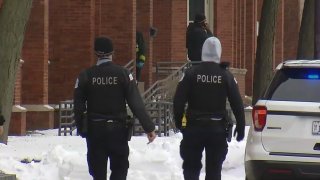 Chicago police officers arrested two suspects after three people were shot during an argument Saturday afternoon in the Auburn Gresham neighborhood on the city's South Side, police stated.
The shooting was reported at approximately 2:30 p.m. at a building in the 8100 block of South May Street, which is near the intersection of West 81st Street. According to police, two offenders were involved in a verbal altercation with the three victims.
At one point, one offender produced a gun and fired shots, striking all three victims, authorities said.
A 36-year-old man was taken to Little Company of Mary Hospital with a gunshot wound to the right foot and said to be in stable condition. A 35-year-old man suffered a gunshot wound to the hand and was transported to Holy Cross Hospital where he was listed in stable condition.
The third victim, a 27-year-old man, sustained a gunshot wound to his right thigh and was transported to the University of Chicago Medical Center in stable condition.
In a tweet, the Chicago Police Department applauded officers and community safety teams for the "quick response."
The incident remains under investigation by Area Two detectives.