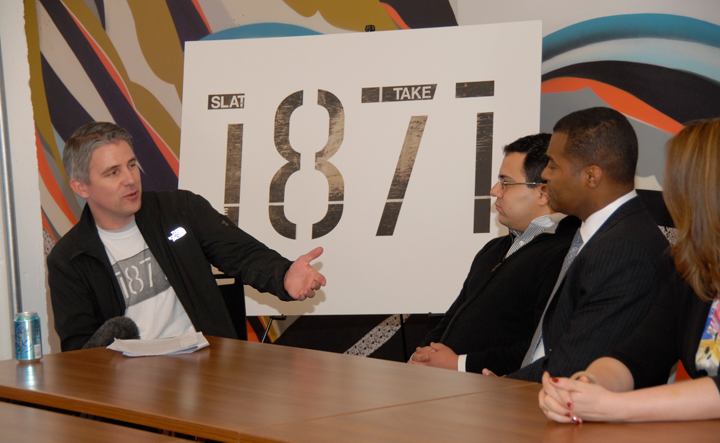 Energy. That's my first impression as I walked into 1871, the hotly anticipated co-working space for digital entrepreneurs located on the 12th floor of the Merchandise Mart.
But 1871, opened last Tuesday, is much more than that. It's the entrepreneurial equivalent of the Silk Road -- an intersection of routes and trades, the perfect blend of start-up chemistry, designed to drive growth and innovation. As Gov. Pat Quinn said when he announced a $2.3 million grant to support 1871 earlier this year, this venture will "expand… businesses, create jobs and grow our economy."
And he meant it.
"This place is going to provide a lot of possibilities for people to interact, for sparks to occur, for juxtapositions of people and ideas that wouldn't have otherwise met," said Nick Rosa, managing director of Sandbox Industries, whose Excelerate Labs will hold its summer accelerator program at 1871. "It's at those intersections where really good innovation occurs."
"The collaborative work-space environment here is unparalleled: You have legends walking the halls, GrubHub guys, Viewpoints and Groupon guys," said Genevieve Theirs, co-founder of sittercity.com, a website that connects customers with baby-sitters. "I wish 1871 was around when I started. It would have greatly accelerated our growth."
Erica Bethe Levin, co-founder of Cheeky Chicago, an online magazine for the cosmopolitan woman, touts the support system at 1871. "This is the first space that's a hub, the universities and management schools are all here. Everyone's common goal is for all of us to succeed," said Levin.
"I don't have much time but I can't afford to not be here," says Maureen Wozkian, co-founder of Contact Karma, a website where business people can find recommended companies and offers.
The name "1871" was inspired by the period of rapid innovation that followed immediately after the Great Chicago Fire of that year, when leading engineers, designers and builders came together to build a new city.
And now Chicago's digital engineers are coming together again to build a city, at 1871.
Mana Ionescu is founder and president of Chicago Digital Marketing Company Lightspan Digital. An award-winning digital marketer, Mana applied over 10 years of digital marketing experience to building Lightspan's best-in-class methodology, to help businesses of all sizes learn and adopt good social media practices. Lightspan also offers social-media strategy, planning, management, analytics, campaign development and execution.