It has been 15 years since two young sisters mysteriously disappeared from their Chicago apartment complex and their family is still without answers.
"No one should live with not knowing," said Shelia Bradley, the great aunt of the missing girls. "If there was a funeral you could grieve, but you can't grieve if you don't have bodies."
Tionda Bradley, 10, and Diamond Bradley 3, left a note for their mom saying they were going to school and the store, but when the two never returned home, a frantic search began.
Their story has made national headlines since 2001, even garnering a feature on America's Most Wanted, but as time went on, the case went cold.
On Wednesday, a composite was released showing what 25-year-old Tionda and 18-year-old Diamond might look like today.
"We have a problem of seeing them as adults because we're still stuck," said Bradley-Smith.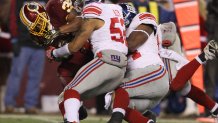 Bradley-Smith maintains the girls were taken by someone they knew, but she remains hopeful they will one day return home.
"I see them almost every other night in my dreams," she said. "I just hope one day I'll get a call, 'Auntie this is Tionda. Auntie, this is Diamond.'"
The private investigator who was hired by the Bradley family after the disappearance also believes the girls were taken by someone familiar to them.
"Whoever took these kids or did away with these kids are someone that's very close to them," said P. Foster.
He added that he continues to get tips on the case, even decades later.
"We continue to take a look at them with a fine-toothed comb," he said.
Police say the investigation into the girls' disappearance remains ongoing.
"The investigation into the disappearance of the Bradley sisters is still very active and CPD detectives continue to pursue leads in order to bring some closure to their family," the department said in a statement. "We urge anyone with information to contact CPD Area Central detectives at 312-747-8380."
Family members and officials say they won't rest until they know what happened.
"At end of the day, we'll come to a conclusion," Foster said. "Whether I'm sitting in a nursing home or where the case may be, I can say I did my best to determine what happened to these children."
Tips can also be sent to the private investigator's tip line at (847) 579-9771.