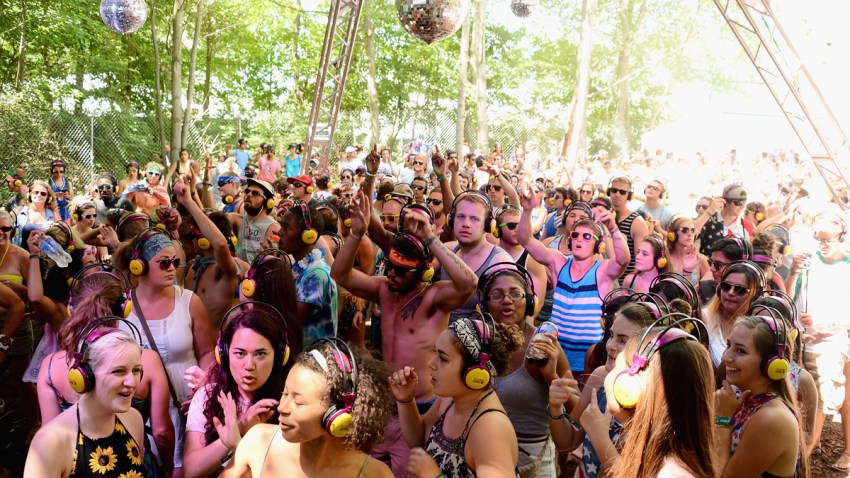 The sound of summer in Chicago is the sound of music festivals.
While Lollapalooza is the biggest and most well-known, but there are several other music fests in the city or nearby to keep you busy almost every weekend of the summer.
Check out 15 of the top music festivals in the Chicago area this summer below.
Blues Fest

When: June 12 to 14
Where: Grant Park
Headliners: Buddy Guy, Shemekia Copeland, Toronzo Cannon
About: The Chicago Blues Fest is the largest free blues festival in the world. Past performers include Bonnie Raitt, Ray Charles and B.B. King.
Spring Awakening
When: June 12 to 14
Where: Soldier Field
Headliners: Zedd, Hardwell, Tiesto, Eric Prydz, Diplo, Afrojack, Dada Life, Duke Dumont, Excision, Flosstradamus, Martin Garrix, Zeds Dead
About: Spring Awakening is an electronic dance music festival that's been held in Chicago since 2012.
Ravinia
When: June 13 to Sept. 12
Where: Ravinia Park in Highland Park
Headliners: Big-name performers include Lady Gaga and Tony Bennett, Sheryl Crow, Aretha Franklin, Steely Dan and Alan Jackson
About: Ravinia is North America's oldest music festival and runs throughout the summer in a 36-acre park, where guests can bring their own chairs, food and drinks to set up a picnic.
Windy City LakeShake
When: June 19 to 21
Where: FirstMerit Bank Pavilion at Northerly Island
Headliners: Dierks Bentley, Brad Paisley, Florida Georgia Line
About: In its inaugural year, this three-day downtown music festival celebrates all things country music.
Summerfest
When: June 24 to 28, June 30 to July 6
Where: Henry W. Maier Festival Park in Milwaukee, Wisc.
Headliners: The Rolling Stones and Buddy Guy, Florida Georgia Line, Kings of Leon, Keith Urban, Stevie Wonder, Zac Brown Band, Linkin Park, Kendrick Lamar, Carrie Underwood, Ed Sheeran, The Avett Brothers, Neil Young and Promise of the Year
About: Inspired by Oktoberfest in Munich, Germany, Summerfest debuted in 1968 and has grown into Milwaukee's biggest music festival, drawing people from all over the country.
American Music Fest
When: July 1 to 4
Where: FitzGerald's Nightclub, 6615 Roosevelt Rd., Berwyn, Ill.
Headliners: Among the performers are Pokey LaFarge, Lindi Ortega, Eric Lindell, Joe Ely Band, Sarah Borges, Paul Thorn, Glen David Andrews, Marcia Ball Band, Honey Island Swamp Band and Casey McDonough.
About: The American Music Fest, which started in 1981, pays tribute to Americana music, from rock and soul to country, blues, rockabilly, jazz and bluegrass.
Taste of Chicago
When: July 8 to 12
Where: Petrillo Music Shell in Grant Park
Headliners: Weezer, Erykah Badu, The Chieftains, Spoon and Maze Featuring Frankie Beverly
About: Although the Taste of Chicago is primarily a food festival, the event also draws big-name performers every years for evening entertainment.
Ruido Fest
When: July 10 to 12
Where: Addams/Medill Park, 1301 W. 14th St.
Headliners: Cafe Tacvba, Zoe, Molotov, Kinky, Ozomatli, Zero Kill, Collective*Hiperboreal, Compass: Mexican Institute of Soul, Selectah, Enjambre, Porter, Estelares
About: Ruido Fest is the first three-day multi-stage outdoor music festival in U.S. showcasing Latin post-punk, electronic, hip-hop, rock, psychedelia, tropicalia, EDM, reggae and pop acts from all over the American continent and the world in the Pilsen neighborhood.
Mamby on the Beach
When: July 11 to 12
Where: Oakwood Beach
Headliners: Passion Pit, Empire of the Sun
About: The goal of Mamby is to reflect the unparalleled experience of Chicago in the summer and preserve the history of Chicago as the home of house music. More than 40 artists will perform.
Pitchfork
When: July 17 to 19
Where: Union Park, 1501 W. Randolph St.
Headliners: Wilco, Sleater-Kinney, Chance the Rapper
About: Celebrating 10 years in 2015, the internationally recognized Pitchfork Music Festival presents 40-plus bands over the course of three days each summer in Chicago's Union Park, highlighting the best in new and emerging music.
Illinois State Fair
When: Aug. 13 to 23
Where: State Fair Grounds, 801 Sangamon Ave., Springfield
Headliners: Justin Moore, Rascal Flatts, Styx, The Fray
About: Every year, the Illinois State Fair brings major musical acts to the Grand Stand to entertain crowds after a day of fair-going.
Lollapalooza
When: July 31 to Aug. 2
Where: Grant Park
Headliners: Paul McCartney, Metallica, Florence + the Machine
About: Lollapalooza is Chicago's biggest and most well-known music festival, bringing more than 100 acts to the stage over three days.
Chicago Jazz Festival
When: Sept. 3 to 6
Where: Petrillo Music Shell, Grant Park
Headliners: The Bobby Hutcherson Quintet, the Billy Strayhorn Centennial Celebration, Brian Gephart Sextet, Douglas Ewart and the Inventions, Dee Dee Bridgewater, Muhal Richard Abrams' Experimental Band
About: Beginning in 1974 as a way to honor the late Duke Ellington, the Chicago Jazz Festival has become one of the biggest free jazz festivals in the world.
North Coast Music Festival
When: Sept. 4 to 6
Where: Union Park, 1501 W. Randolph St.
Headliners: Widespread Panic, The Chemical Brothers, D'Angelo and the Vanguard
About: One of the last festivals of the season in Chicago, the North Coast Music Festival brings musical acts from all genres, from hip hop and dance to rock and jam.
Riot Fest
When: Sept. 11 to 13
Where: Douglas Park
Headliners: No Doubt, Snoop Dogg, Iggy Pop, Motorhead, Faith No More
About: The annual punk and rock music festival is moving from Humboldt Park to Douglas Park this year, but it will still bring nearly 100 musical acts to the stage.