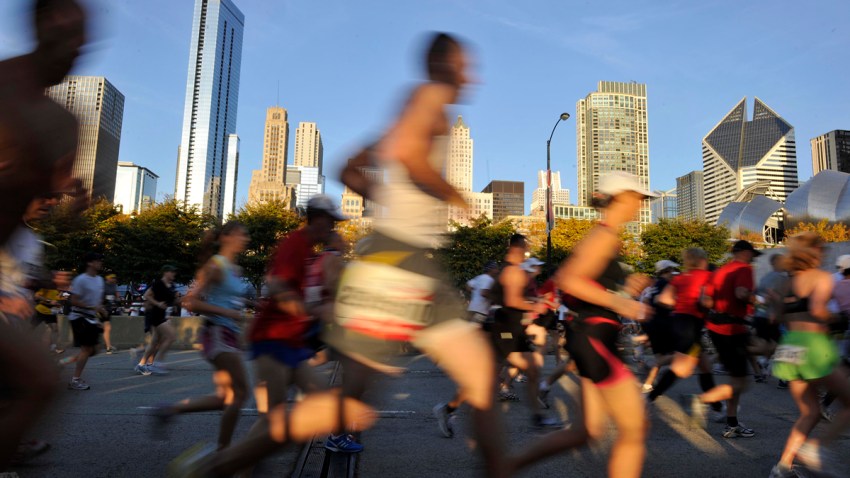 May promises to burst with sunshine, blooming flowers and outdoor races aplenty.
The Chicago area hosts races of all distances and sizes every weekend. Whether you're just starting out with a 5K or are ready to take on a triathlon, there's a race for everyone in May.
May 3

Bark in the Park: The Anti-Cruelty Society hosts its 20th annual run that not only allows dogs, but encourages it. The 5K race winds through Montrose Harbor and ends with events for dog and their owners, including a dog agility course, pet massages, pet psychic readings and a nail clipping spa.

Moonlight Marathon at Oak Ridge Cemetery: Runners in this first-ever nighttime race can choose to run a full marathon, a half marathon, a marathon relay, a 6.55-mile race or a 5K, all ending around midnight. The course winds its way through Oak Ridge Cemetery in Springfield, where Abraham Lincoln is buried. In the darkness, runners have to find their way to the finish line using the light from the moon, a headlamp, route reflectors and course volunteers.

The Zombie Run: The zombie apocalypse comes to Grayslake in this race. Participants can sign up as humans or zombies and race through an apocalyptic obstacle course. The human runners wear life flags around their waists, and the zombies – in full zombie costume and makeup – chase the humans and take their life flags. It's like a game of tag meets zombie horror film on a 3.1-mile race course.

The Glo Run: Take a nighttime trip through a glow-in-the-dark race course at the Glo Run. The 5K run is more like a neon-themed party in the dark than a running competition, but it makes for a fun way to get in a little training run. Participants receive neon t-shirts and glow-in-the-dark accessories to wear during the race and at the post-race DJ party.

May 4

Jack Pine Savage 5K: Start growing your lumberjack beard and hit the trail in Rockton for this family-friendly 5K trail run. The race is held on a tree farm and accommodates runners of all skill levels. If you can't grow a beard on your own, don't worry. All runners will receive one at packet pick-up along with a t-shirt and a wooden medallion.

Cinco de Miler: This five-mile race at Montrose Harbor comes the day before Cinco de Mayo, but the post-race party is a pre-Cinco de Mayo fiesta. The fiesta features beer, chips and salsa and churros along with live music.

May 10

Fat Ass 5K: This race probably won't help you lose weight. You might actually gain some, but it's all for a good cause. The Fat Ass 5K takes places in Springfield, and its route includes stations for beer, ice cream, doughnuts and corn dogs throughout. Afterwards join the post-race party and sample the pig roast while jamming to live music.

I Heart Momma 5k Trail Run: The Muddy Monk is at it again in another Chicagoland trail run, this time in Bemis Woods in Western Springs. This 3.1-mile race is intended to honor our mothers before their big day. After the race, there will be festival where you can enjoy beer and a Chicago-style hotdog.

Starved Rock Country Marathon: Race through the scenic Starved Rock State Park in Utica in a challenging marathon course or half-marathon course. This is the first year of the Starved Rock Marathon, and there will be significantly fewer participants than in the Chicago Marathon. If you want fewer people and more trees, this is the marathon for you.

Chicago Tough Mudder: In this trail run in Richmond, participants make their way through rugged trails, encountering obstacles like freezing ponds and rushing creeks along the way. The course is anywhere between 10 and 12 miles and runs through grass fields, hunting grounds and woods with lots of mud.

May 17

Galena Triathlon and Duathlon: Don't want to give up cycling and swimming to dedicate yourself to running? In Galena, you can do all three. The Galena race is an early season triathlon and is shorter than other standard triathlon distances. The swimming portion in Apple Canyon Lake is 660 yards. The 16.8-mile biking portion is next followed by a 4.2-mile run.

May 18

Chicago Spring Half Marathon/10k: Although the 10K race has reached capacity, there's still room to register for the half marathon. Now in its sixth year, this race takes runners down the lakeshore path past the museum campus and Soldier Field. Afterwards there will be a post-race picnic to celebrate.

May 25

The Brides Run: This run is for the ladies who are planning weddings. Not only is it an opportunity to get fit with other brides-to-be before the big day, but it's also a networking event where brides can meet with wedding vendors and other couples planning weddings. Although the race is geared toward women, all members of the wedding party are welcome, including husbands and groomsmen.

May 31

The Great Urban Race: This is one race that's not all about speed and stamina. It's also about smarts. Running teams must solve 12 clues between noon and 5 p.m. They can choose any route and even use public transportation, as long as they arrive back to the race headquarters by the end of the day with all the clues figured out.