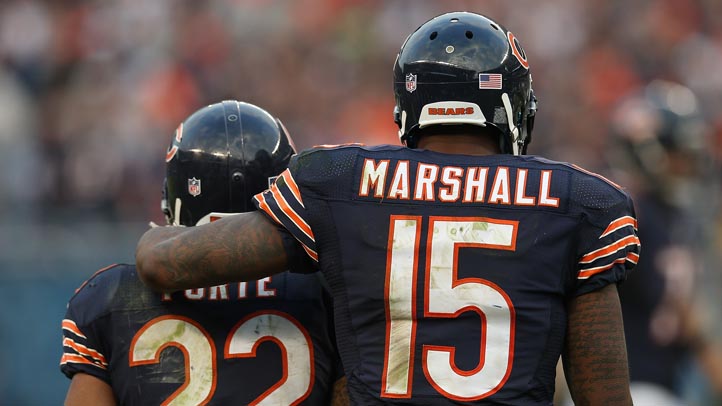 There are plenty of reasons to worry, Bears fans. We don't know much about the team that will run out onto Soldier Field this September except that they have a new coach and no Brian Urlacher. But spring has finally started, and after a long winter, it's time to look at the reasons to have hope.
1. Brandon Marshall -- He's a marquee player. He can make plays that don't seem possible. He cares about Chicago and is active in the community. It's just nice to have him around.
2. The excitement of a new coach -- Marc Trestman was a big swing by the Bears. Since he hasn't been in the NFL in almost a decade, it's hard to know if it's going to be a swing and a miss or a homerun. But that's part of the excitement of this season. Everything will be new.
3. A general manager who isn't content with the "hope for improvement" strategy -- For years, Jerry Angelo would make one big move every year, then let areas like the offensive line languish. That's not Phil Emery's style. He made the big move of changing coaches and has addressed the Bears' needs. Dropping Urlacher was not a popular move, but Emery isn't looking to win a popularity contest. He wants to win a Lombardi Trophy.
4. Julius Peppers -- We need to enjoy Julius Peppers for every second he's in a Bears jersey. He does crazy athletic things on the field. At 33, he's going into his 12th NFL season, so it's not clear how much longer he'll want to play football.
5. Charles Tillman and Tim Jennings -- The best men in the league at taking the ball away from the other team are on the Bears. It's a huge advantage Chicago brings into every game. Opponents know the game could change at any time because of them being on the field.
6. Soldier Field -- Yes, it looks like a spaceship landed into the old classic colonnade. But on the inside is a lovely home for players and fans. Plus, how many teams have a beautiful, downtown location like the Bears? Not to mention the wind coming off Lake Michigan. It befuddles opponents.
7. Young talent on the defensive line -- Corey Wootton, Henry Melton, Shea McClellin and Stephen Paea are young, dynamic and effective. The four of them account for 18 of the Bears' sacks from last season. It's not just hopeful to watch them in the upcoming season, but also to think of their bright future.
8. Martellus Bennett is fun -- The Bears' new tight end is a better receiver and blocker than the Bears' previous options. But more than that, he's a fun, entertaining guy. It's just fun to have him as a Bear, and in the end, isn't that why we follow sports? Because it's fun?
9. Devin Hester doing what Devin Hester does best -- Trestman said he sees Devin Hester as a return man, not a receiver. Hallelujah! Hester does his job best when he has one job to focus on. Not to mention that he'll turn 31 this season, and it's smart to limit his wear and tear.
10. A team who gets they need to win now -- The sense of urgency the Bears are feeling is apparent. The changes they are making and free agents they have signed all scream, "Win now!" As mentioned above, it could be a swing and a miss. But isn't that better than standing pat and striking out?
Copyright FREEL - NBC Local Media