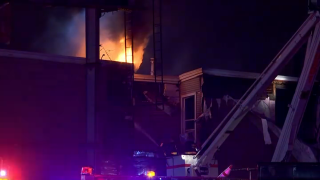 An 81-year-old man was killed and a second sustained serious injuries in an apartment building fire Saturday night in the Cragin neighborhood on Chicago's Northwest Side, according to authorities.
The fire was reported at approximately 7 p.m. at a building located at 5163 W. Grand Ave., the Chicago Fire Department tweeted.
One person died from injuries sustained in the fire, said Deputy Commissioner Marc Ferman with the Chicago Fire Department. The victim was identified as Venancio Delfino, 81, according to the Cook County Medical Examiner's Office.
A second person was seriously hurt and transported to the hospital.
A third individual refused treatment, authorities said.
A dog also died in the fire, officials said.
A cause had yet to be determined late Saturday.