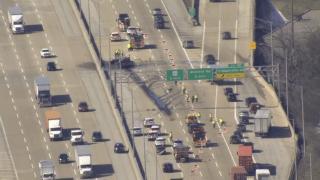 One person was killed and two others injured due to a crash along Interstate 88 Thursday morning, according to Illinois State Police.
Authorities said the crash happened at approximately 9:58 a.m. Thursday near Naperville Road when a white freightliner truck tractor was heading westbound on the Ronald Reagan Memorial Tollway.
The truck struck an SUV, killing a passenger and sending the driver, 36-year-old Salim Merza, to an area hospital with non-life threatening injuries. The driver of truck, 70-year-old James Topps, was also transported to a hospital with non-life threatening injuries, police said.
All westbound lanes of Interstate 88 reopened at approximately 3:30 p.m. following about three hours of closure, according to officials.
State police reminded drivers to "remain vigilant and drive responsibly during the winter weather" in the Chicago area.
Police say the investigation remains ongoing.