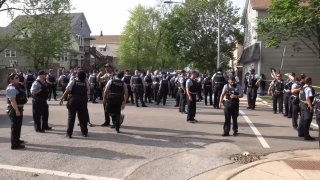 Officials say that a 19-year-old is dead and at least four other teens were injured in a shooting in Chicago's Back of the Yards neighborhood.
According to officials, the shooting occurred near the intersection of 48th Street and South Ada Street at approximately 4:30 p.m.
The five victims were standing outside when a stolen red Mazda arrived on the scene. Multiple occupants of the vehicle then got out and began firing shots at the teens, according to police.
A 19-year-old man was shot in the left side of the body and in the head, and was pronounced dead at an area hospital, police said.
A 16-year-old boy was shot in the left shoulder, arm, face and ankle, and was taken to an area hospital in critical condition. Another teen, an 18-year-old, was shot in the right hip and left knee, and is also in critical condition.
An 18-year-old man was shot in the right leg, and was listed in good condition. A fifth victim, a 16-year-old, suffered a graze wound to his right ankle and refused medical attention.
According to police, the suspects fled in the red Mazda, but later crashed the vehcile.
Three weapons were recovered from the scene, but no suspects are in custody at this time.