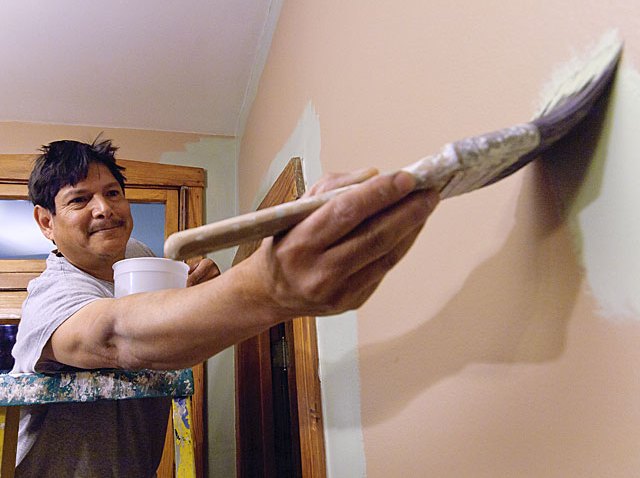 The pain started after a fall. A two-story fall, to be exact.
Sergio Corona, 52, was working at a construction site when he lost his footing and fell almost 20 feet.
"I landed flat on my feet," said Corona. But what seemed like a fortunate, cat-like landing was actually a damaging impact. Corona felt pain in his back, and went to the emergency room.
After a month of recovery, Corona returned to work, but his pain never stopped. And then he injured his back again -- this time without even falling.
"It was really windy," Corona said, and he was trying to hold a 32-foot ladder against a building. "And I started to feel pain in my back."
This time, Corona elected to have surgery to eliminate his pain, but to no avail.
"I continued to be in pain," he said. "And was hurting after just a few hours of work."
And so, seeking a remedy to what had become an intractable problem, Corona was eventually referred to NorthShore University HealthSystem.
Doctors at NorthShore ran an MRI, which revealed that the discs in his lower back were degenerated. The ailment is common, but serious. Left untreated, patients can experience extreme pain and loss of mobility.
The Treatment
The typical treatment for degenerated discs is fusing the vertebrae, an invasive procedure which reduces pain but limits mobility. Recovery can take up to four months.
However, NorthShore neurosurgeon Adebukola Onibokun, MD recommended an alternative treatment called Axial Lumbar Interbody Fusion, or AxiaLIF.
Unlike conventional spinal fusion, AxiaLIF requires only a small incision and employs thin instruments. The treatment is as effective as traditional surgery, but can be performed in about one-third of the time.
Corona underwent surgery in February 2010. He spent just one day in the hospital. Within a week, 90 percent of his back pain was gone.
"I have hope in my life again," Corona said after the surgery. "It has changed my life and my whole family's life. I'm back in business. It's just amazing."
Third in a four-part series on diagnosing and treating Chicagoan's major health problems including cancer, neurological ailments, cardiology concerns and orthopaedics. For more info, refer to northshore.org.