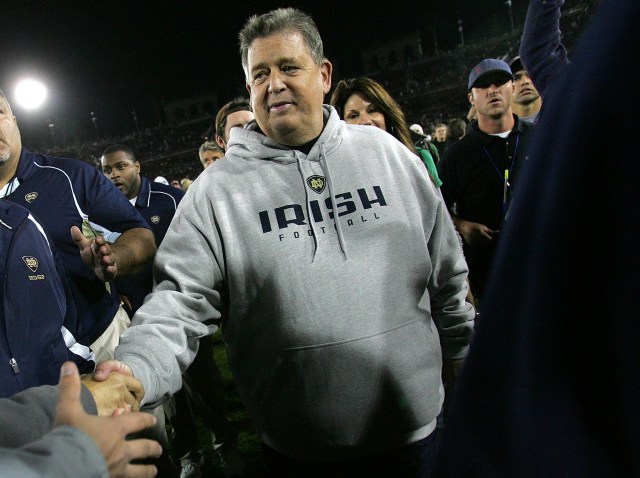 Monday afternoon, Charlie Weis got his walking papers.

Finally, mercifully, Notre Dame athletic director Kevin Swarbrick relieved Weis of his duties as Notre Dame's head coach, ending Weis' five-year run at the helm of the country's most famous, if not its most popular, college football franchise. Where did it go all wrong?

Weis rode in on a wave of hype; even Notre Dame still sells this rather embarrassing book, written back when people still respected Weis.

The problem? That respect came too fast and too easy, and it made fools of everyone who once believed in the surly self-proclaimed genius from the New England Patriots.

It wasn't just the media, either. Notre Dame made the mistake of giving Weis a 10-year contract extension just seven games into his first season at ND, which made Weis' buyout so large it will cost the Irish athletics department $18 million just to get rid of him -- not to mention the money owed to his staff.

This decision seems insane now, of course, but it didn't seem all that intelligent at the time, either. This was just a few years after ND made a similar mistake with Ty Willingham, who started 10-0 in his first season and faltered soon thereafter. ND is paying the price for hubris, both of their own making and of Weis' conjuring. For a time, everyone believed Weis was every bit as smart as Weis said he was.

The verdict? Not so much.

In the end, it's not that Weis can't coach, or can't recruit, though he appears only modestly capable at both. It's that he can't build a program. The three are not the same, and Weis' failure to grasp that will leave his legacy in tatters. His bank account, on the other hand, will be doing just fine.

Eamonn Brennan is a Chicago-based writer, editor and blogger. He is the editor of Yahoo! Sports's college basketball blog The Dagger and a contributor to Inside The Hall. Follow him at his personal site, eamonnbrennan.com, or on Twitter.
Copyright FREEL - NBC Local Media