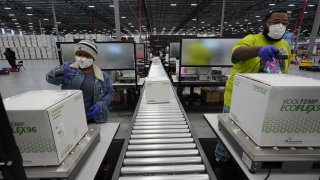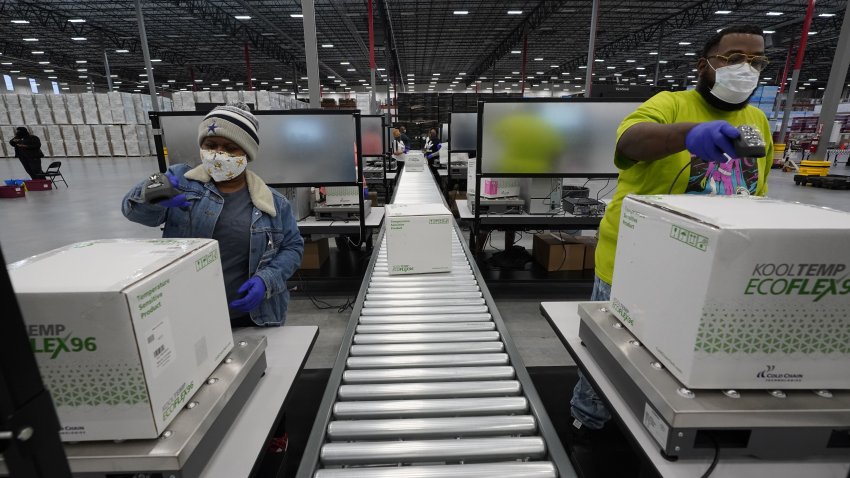 A Centers for Disease Control and Prevention advisory committee recommended Sunday that the next groups to receive the COVID-19 vaccines in the coming weeks should be people ages 75 and older and front-line essential workers.
The United States added a record of nearly a quarter-million coronavirus cases in the past day. Along with 249,709 new cases, there were an additional 2,814 reported deaths nationwide in the past 24 hours. That pushed the confirmed U.S. death toll past 313,000, according to researchers at Johns Hopkins University.
California led the case surge with 48,221 more infections. Almost 17,000 people are hospitalized in California and health officials are scrambling to find enough beds for patients. Texas, Florida, New York and Tennessee all registered more than 10,400 new cases.
Here are the latest coronavirus updates from the U.S. and elsewhere:
---
Canada, Some EU Nations Ban UK Travelers Over Coronavirus Strain
Canada and several European Union nations barred travelers from the U.K. on Sunday and others were considering similar action, in a bid to block a new strain of coronavirus sweeping across southern England from spreading to the continent, The Associated Press reported.
Canada announced its ban Sunday night. Prime Minister Justin Trudeau said in a statement that for 72 hours starting at midnight Sunday, "all flights from the UK will be prohibited from entering Canada." He added that travelers who arrived Sunday would be subject to secondary screening and other health measures.
France, Germany, Italy, the Netherlands, Belgium, Austria, Ireland and Bulgaria all announced restrictions on U.K. travel hours after British Prime Minister Boris Johnson announced that Christmas shopping and gatherings in southern England must be canceled because of rapidly spreading infections blamed on the new coronavirus variant.
---
Congress Reaches Deal on COVID Relief Package
Congress struck an agreement Sunday on a $900 billion COVID-19 economic relief package that includes long-overdue help to businesses and individuals and money to deliver vaccines.
House leaders informed lawmakers that they would vote on the legislation on Monday, and the Senate was likely to vote on Monday, too.
The bill would establish a temporary $300 per week supplemental jobless benefits and $600 direct stimulus payments to most Americans, along with a fresh round of subsidies for hard-hit businesses and funding for schools, health care providers, and renters facing eviction.
Senate Minority Leader Chuck Schumer, D-NY, said the bill was a "strong shot in the arm to help American families weather the storm."
Read the full story here.
---
CDC Advisory Group: Older Adults, Front-Line Essential Workers to Get Covid Vaccine Next
People ages 75 and older and front-line essential workers will be next in line to receive COVID-19 vaccines, according to recommendations from a Centers for Disease Control and Prevention advisory committee.
On Sunday, the Advisory Committee on Immunization Practices voted in favor of the recommendations, which will go on to the CDC for final approval.
In addition to those 75 and older, the next phase, deemed Phase 1B, would include first responders, such as firefighters and police officers, as well as teachers, day care staff and others working in education. Corrections officers, U.S. postal workers, public transit workers and those whose jobs are essential for the food supply — from farmers to grocery store employees — are also next up to receive the vaccine. Altogether, this group includes about 49 million people.
The shots are not expected imminently, but they should begin in the coming weeks.
---
2nd COVID-19 Vaccine Authorized in US Is Shipped Out
Initial shipments of the second COVID-19 vaccine authorized in the U.S. left a distribution center Sunday, a desperately needed boost as the nation works to bring the coronavirus pandemic under control.
The trucks left the Memphis-area factory with the vaccine developed by Moderna Inc. and the National Institutes of Health. The much-needed shots are expected to be given starting Monday, just three days after the Food and Drug Administration authorized their emergency rollout.
Also on Sunday, an expert committee began considering who should be next in line for early doses of the Moderna vaccine and a similar one from Pfizer Inc. and Germany's BioNTech. Pfizer's shots were first shipped out a week ago and started being used the next day, kicking off the nation's biggest vaccination drive.
Public health experts say the shots — and others in the pipeline — are the only way to stop a virus that has been spreading wildly. Nationwide, more than 219,000 people per day on average test positive for the virus, which has killed more than 314,000 in the U.S. and nearly 1.7 million worldwide.
---
California Hospitals Struggle as Virus Cases Surge
California hospitals are battling to find beds to house patients amid fears the explosion of coronavirus cases will exhaust staffing resources.
As of Saturday, nearly 17,400 people were hospitalized with confirmed or suspected COVID-19 infections — more than double the previous peak reached in July — and a state model that uses current data to forecast future trends shows the number could reach 75,000 by mid-January.
More than 3,600 confirmed or suspected COVID-19 patients were in intensive care units. All of Southern California and the 12-county San Joaquin Valley to the north have exhausted their regular intensive care unit capacity, and some hospitals have begun using "surge" space. Overall, the state's ICU capacity was just 2% on Saturday.
The enormous crush of cases in the last six weeks has California's death toll spiraling ever higher. Another 272 fatalities were reported Saturday and in the last week nearly 1,600 people died.
---
General Sorry for 'Miscommunication' Over Vaccine Shipments
The Army general in charge of getting COVID-19 vaccines across the United States apologized Saturday for "miscommunication" with states over the number of doses to be delivered in the early stages of distribution.
"I failed. I'm adjusting. I am fixing and we will move forward from there," Gen. Gustave Perna told reporters in a telephone briefing.
Perna's remarks came a day after a second vaccine was added in the fight against COVID-19, which has killed more than 312,000 people in the U.S. Governors in more than a dozen states have said the federal government has told them that next week's shipment of the Pfizer-BioNTech vaccine will be less than originally projected.
Perna acknowledged the criticism and accepted blame.
"I want to take personal responsibility for the miscommunication," he said. "I know that's not done much these days. But I am responsible. ... This is a Herculean effort and we are not perfect."
The general said he made mistakes by citing numbers of doses that he believed would be ready.
"I am the one who approved forecast sheets. I'm the one who approved allocations," Perna said. "There is no problem with the process. There is no problem with the Pfizer vaccine. There is no problem with the Moderna vaccine."
---
Millions Forced to Cancel Christmas as 'New Variant' of Coronavirus Spreads in U.K.
Millions of people in London and the U.K.'s southeast will be forced to cancel their Christmas plans after scientists said Saturday that a new coronavirus variant was spreading more quickly.
Prime Minister Boris Johnson told a news conference that the toughest set of coronavirus restrictions — known as "Tier 4" — will be put in place from Sunday, putting regions under the strictest lockdown rules.
As a result, nonessential shops, gyms, cinemas, hairdressers and bowling alleys will be forced to close for two weeks, while people will be restricted to meeting one other person from another household in an outdoor public space.
A "bubble" policy — allowing up to three households to meet over the holiday period in parts of the country that are not under Tier 4 restrictions — will be severely curtailed and will only apply on Christmas Day, Johnson said.
---
Concern Among Muslims Over Halal Status of COVID-19 Vaccine
In October, Indonesian diplomats and Muslim clerics stepped off a plane in China. While the diplomats were there to finalize deals to ensure millions of doses reached Indonesian citizens, the clerics had a much different concern: Whether the COVID-19 vaccine was permissible for use under Islamic law.
As companies race to develop a COVID-19 vaccine and countries scramble to secure doses, questions about the use of pork products — banned by some religious groups — has raised concerns about the possibility of disrupted immunization campaigns.
Pork-derived gelatin has been widely used as a stabilizer to ensure vaccines remain safe and effective during storage and transport. Some companies have worked for years to develop pork-free vaccines: Swiss pharmaceutical company Novartis has produced a pork-free meningitis vaccine, while Saudi- and Malaysia-based AJ Pharma is currently working on one of their own.
But demand, existing supply chains, cost and the shorter shelf life of vaccines not containing porcine gelatin means the ingredient is likely to continue to be used in a majority of vaccines for years, said Dr. Salman Waqar, general secretary of the British Islamic Medical Association.
Spokespeople for Pfizer, Moderna and AstraZeneca have said that pork products are not part of their COVID-19 vaccines. But limited supply and preexisting deals worth millions of dollars with other companies means that some countries with large Muslim populations, such as Indonesia, will receive vaccines that have not yet been certified to be gelatin-free.
Associated Press/NBC