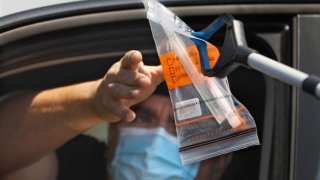 As testing continues to increase in the state of Illinois, some regions are beginning to draw closer to having coronavirus mitigation rules put into place to help stop the spread of the virus.
Region 4 in southwestern Illinois already has those rules in place, but Region 7, comprised of Will and Kankakee counties, could soon join them, as the region hit the 8% positivity rate mark on Saturday.
If the region stays at that level for three consecutive days, then coronavirus mitigation rules would be put into place.
The news comes as the state smashed another record for single-day testing, with nearly 57,000 new tests performed over the last 24 hours. The 7-day positivity rate remained steady at 4.3%, with testing skyrocketing as a result of new technologies made available at the University of Illinois in Champaign.
Here are the latest headlines from around the state on the fight against coronavirus today (Aug. 22):
Will, Kankakee Counties Could See New Coronavirus Mitigation Rules Put in Place
Will and Kankakee counties could potentially see new coronavirus mitigation measures implemented next week after the area saw its rolling positivity rate reach 8% on Saturday.
According to data provided by the Illinois Department of Health, the two counties, which comprise Region 7 in the state's coronavirus mitigation strategy, have seen their combined positivity rate on coronavirus testing go up from 6.7% on Aug. 12 to an even 8% on Saturday, with six consecutive days of increases in that number.
Under the IDPH's "Restore Illinois" plan, any region that has a rolling positivity rate of 8% or higher for three consecutive days would then have coronavirus mitigation measures enacted.
Illinois Sets Another New Testing Record, With More Than 2,300 New Cases
For the fourth day in a row, the state of Illinois has set a new record for coronavirus testing, with nearly 57,000 new tests conducted over the last 24 hours.
According to the Illinois Department of Public Health, a total of 56,766 new tests were reported over the last day, smashing the previous mark of 51,736 tests as the high watermark for testing over a 24 hour period.
In all, 3,649,685 tests have been conducted over the course of the pandemic.
Over the last day, a total of 2,356 new cases of the virus have been confirmed by state health officials, bringing the statewide total to 218,285 since the pandemic began.