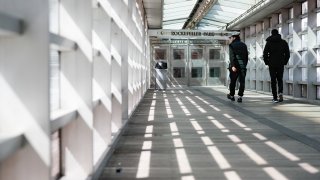 Across the country, attempts to slow the spread of the deadly coronavirus have thrown the criminal justice system into disarray as officials try to limit large courthouse gatherings, including juries, while also making sure that people accused of crimes aren't deprived of their due-process rights.
Concerns about the outbreak seem to have hit a tipping point, with 27 states under orders to stop jury trials or restrict the number of people who can come to court, according to data collected by the National Center for State Courts as of Monday afternoon, NBC News reports.
Some federal courts, including districts in New York and Washington, have also postponed trials.
"The only time we've heard of anything vaguely like this was after 9/11 or a hurricane, but that was only for a few days," said Bill Raftery, a spokesman for the center.
Read the full story at NBCNews.com